Free shipping on orders over $125 (oversized items excluded)
Login
Log in if you have an account
Register
By creating an account with our store, you will be able to move through the checkout process faster, store multiple addresses, view and track your orders in your account, and more.
Create an account
Julian's 2x2 HB
13 Oct 2021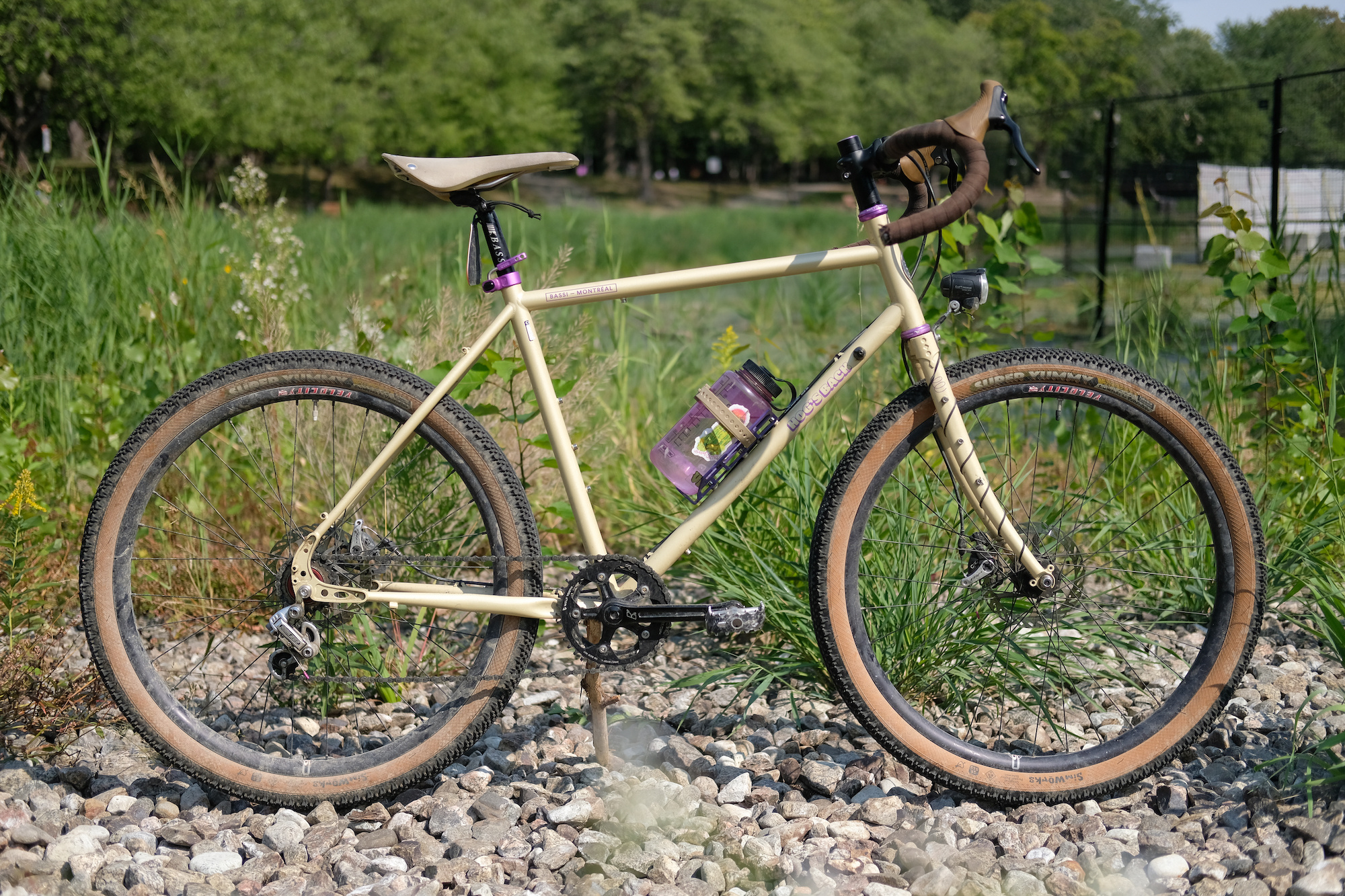 And now for something completely different. I've ridden quite a few iterations of this frame, starting with the prototype which first landed three years ago now. The Hog's Back, with its mile-long top tube, was very much intended to be built with swept back, wide, comfy handlebars, and initially, that's what we expected everyone's build to feature. Then something a little unexpected happened: people started building it with drop bars. Early adopters were friends Keith, and James and Candice at Analog Cycles, whose Discord Components stems help shorten the reach to achieve this kind of setup. It caught on so much that we ended up offering a drop bar build as a stock option. I felt that I needed to see what the hype was all about, so I built myself a road bike!
I was also wondering what was up with everyone's wide-as Cowchipper bars, so I built it up with a 52cm and love it. Chunky descents are a breeze, just keep your hands in the drops for quick brake grabs.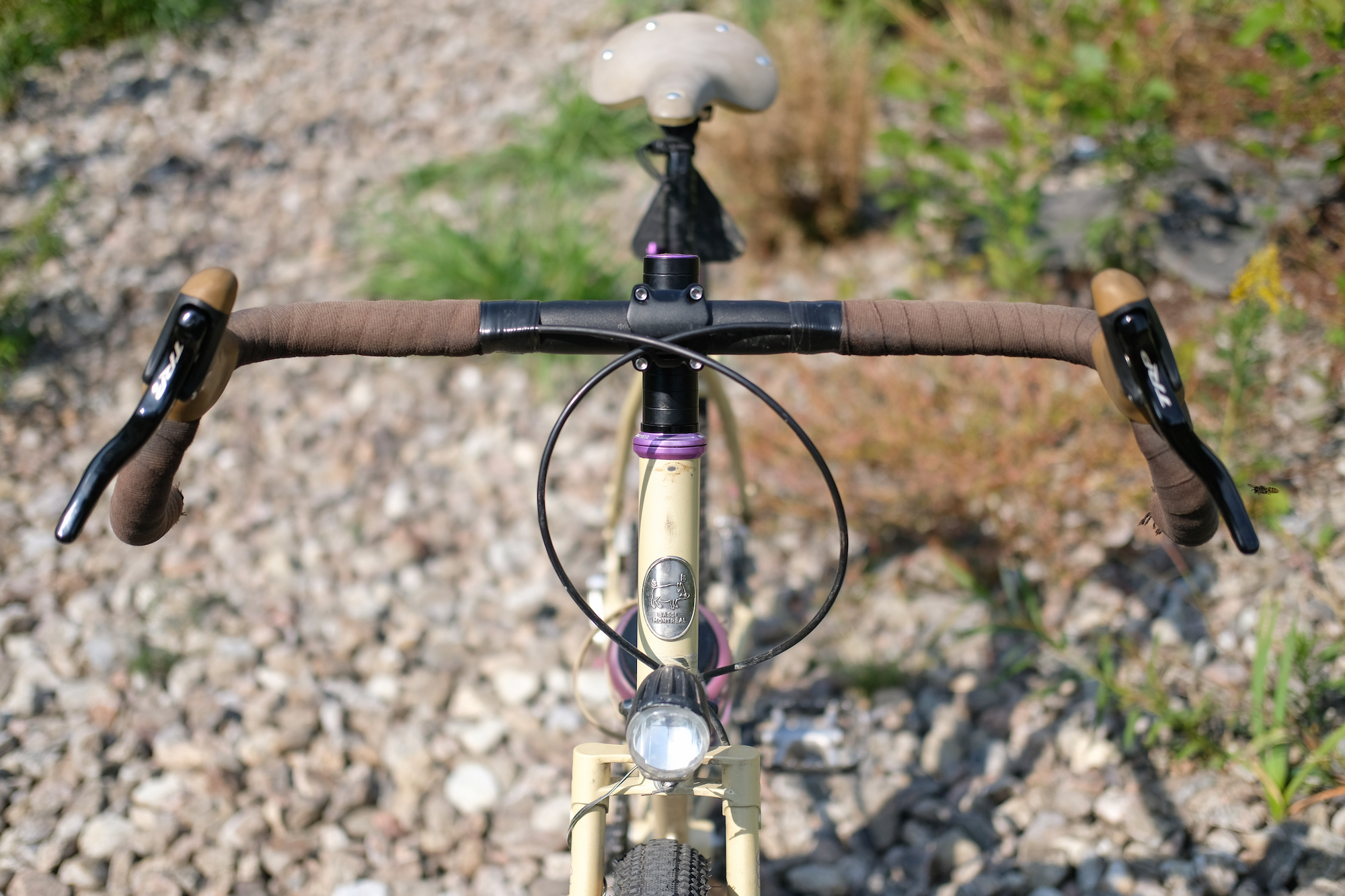 Speaking of brakes, these TRP RRL levers are just the comfiest! I'm also quite fond of the Newbaum's cushioned cotton bartape. I love the way it soaks up the UV and fades, just like some of my favourite black t-shirts. The fraying is fun too.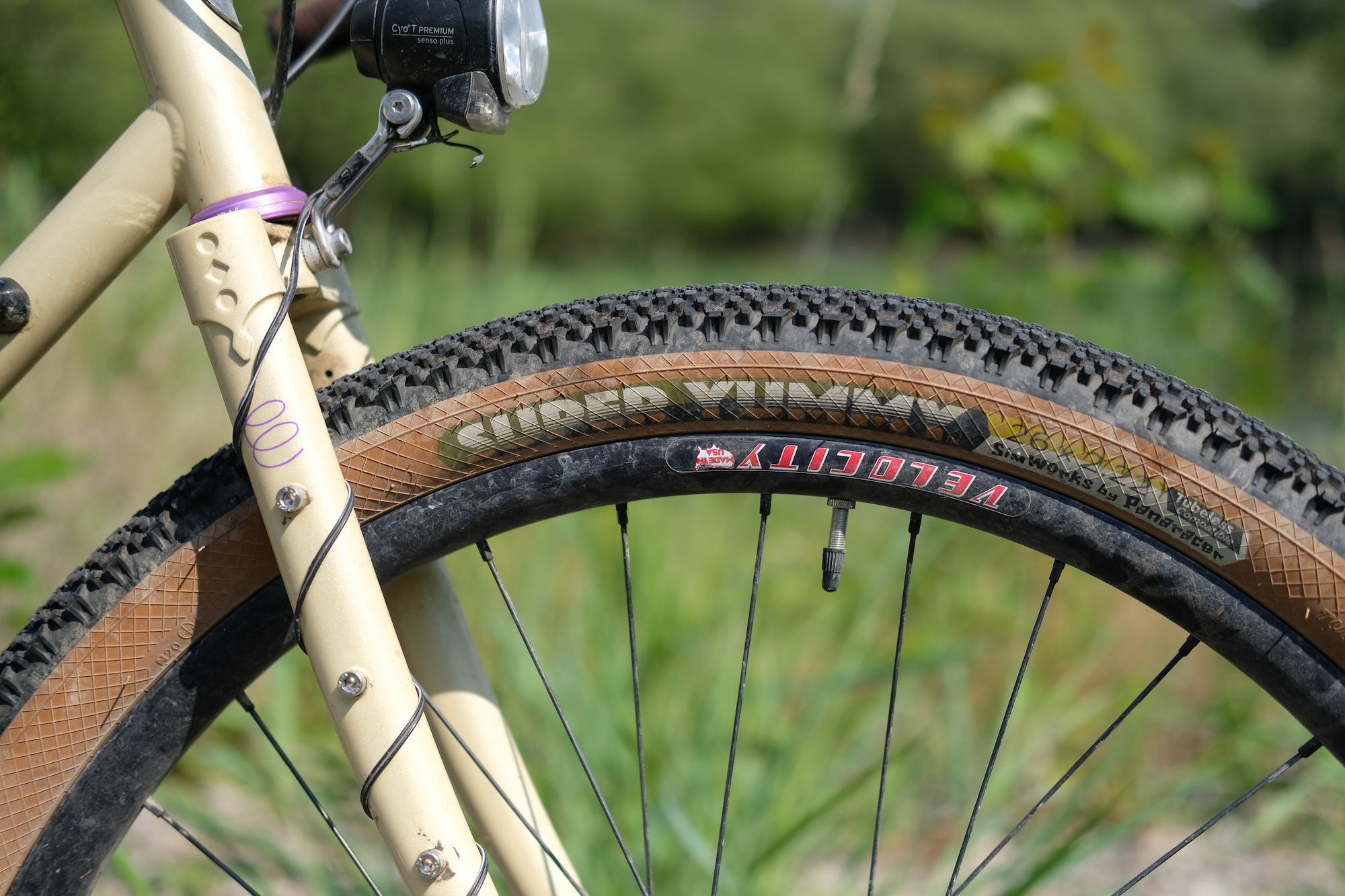 Sim Works Super Yummy. They live up to their name. Moderate but grabby tread and peanut butter sidewalls do great on smooth, chunky, and everything in between. Plus they look fantastic!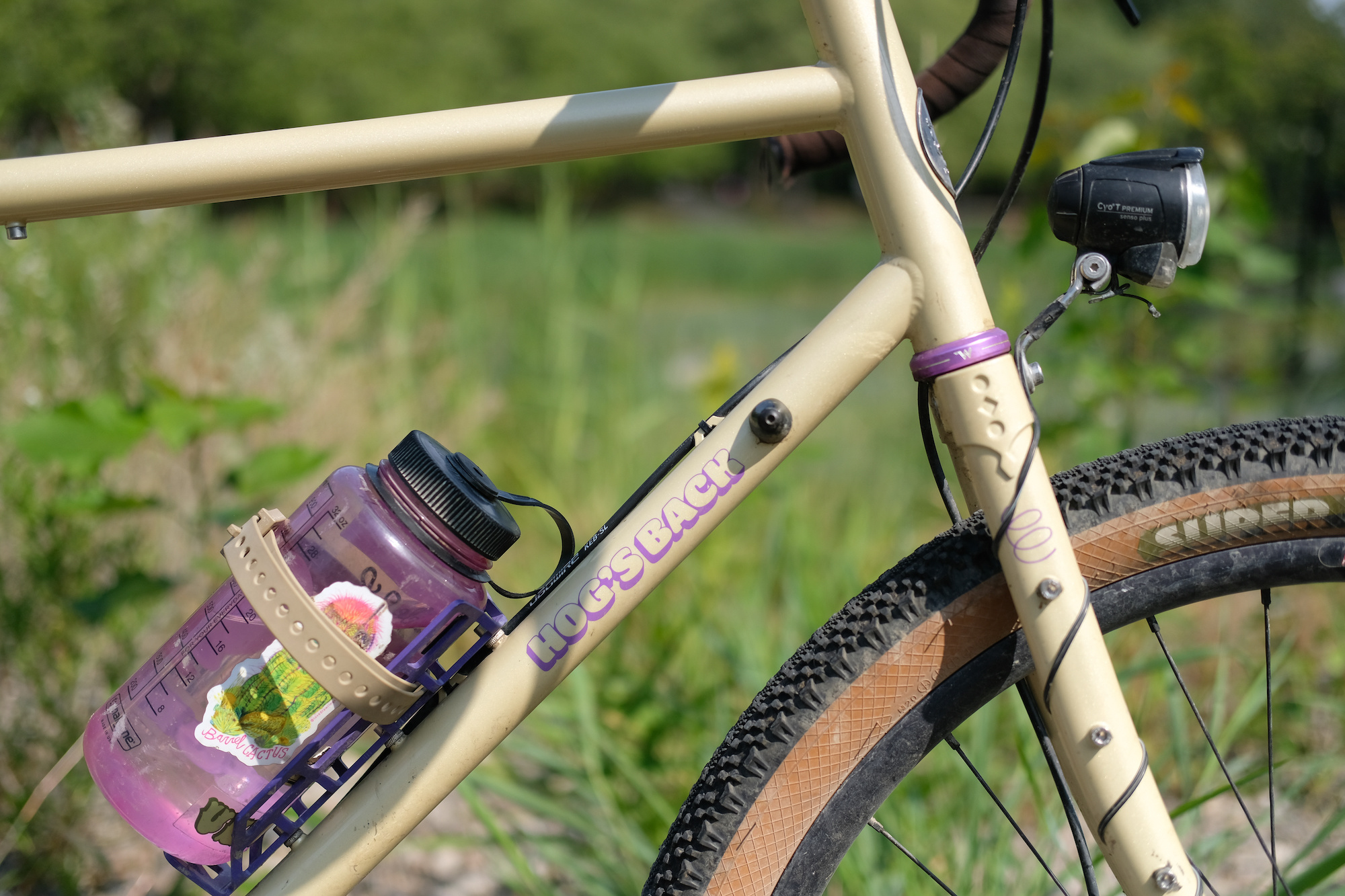 2008 fixie craze me is stoked that colours are back on bikes! Pops of purple here and there keep this build exciting - the Widefoot cage, Paul QR seatpost collar, and White Industries headset were a couple indulgences I felt were crucial to get this bike looking just right.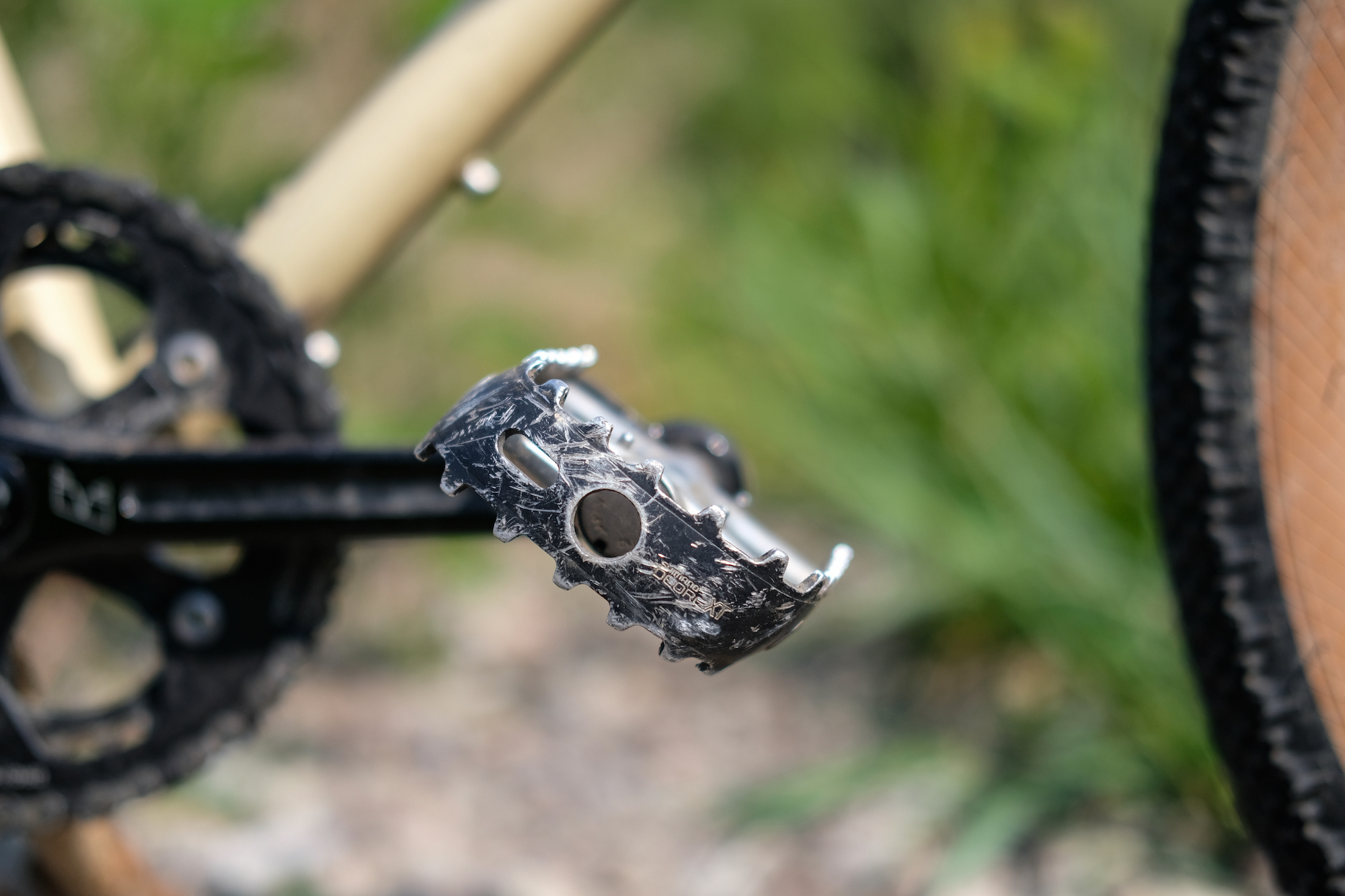 These pedals are something else. They're Shimano Deore XT PD-M730s, produced between 1986 and 1993. I've never enjoyed a platform pedal so much. I like their asymmetry and black/silver combo. If you're hunting for a used pair, make sure to get this wider version, not the more conventionally shaped and smaller PD-M735. Or treat yourself and order a NOS pair from Chillin ATB Antique Dealer.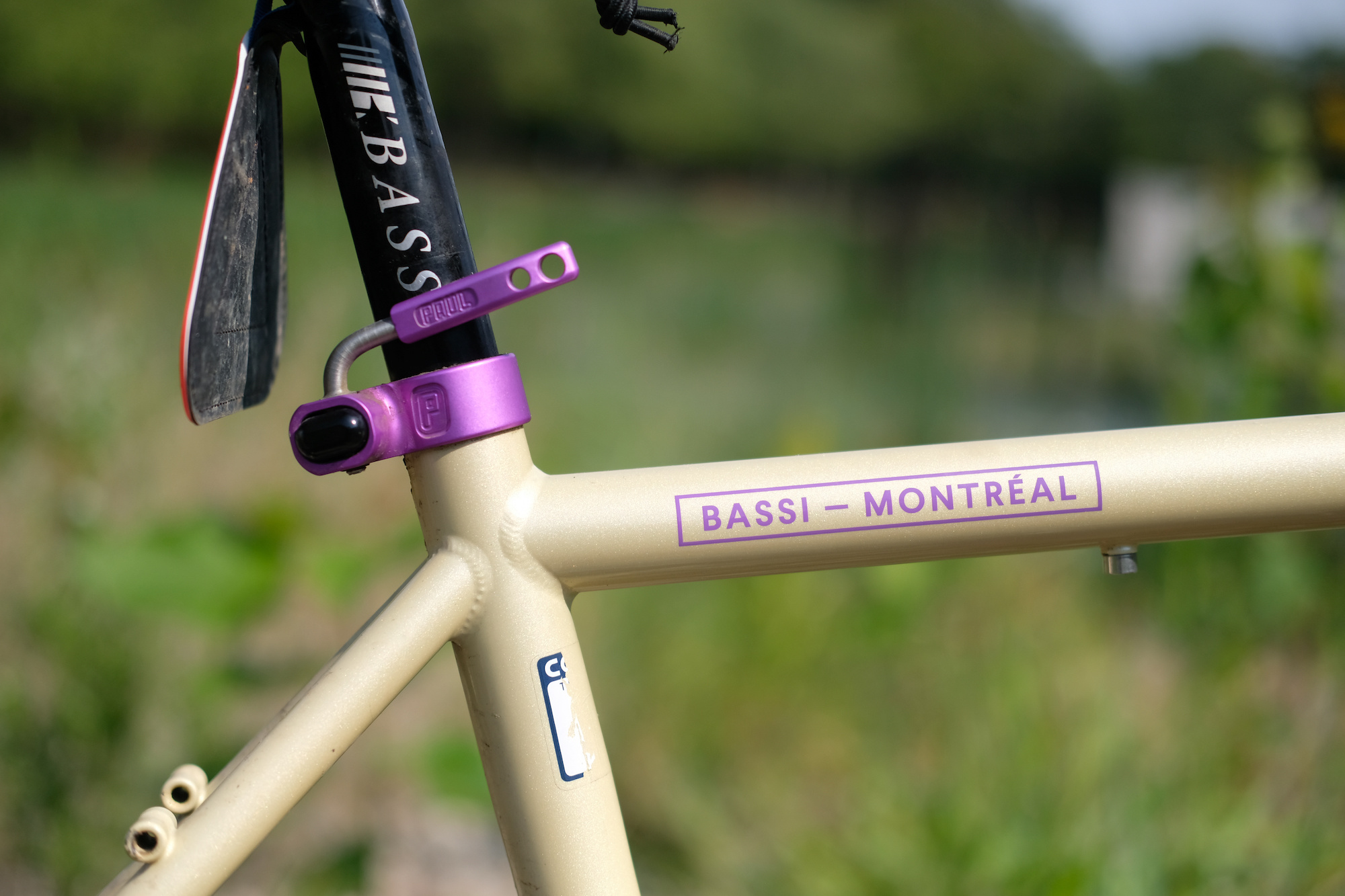 My mountain bike friends keep teasing me for not having a dropper post, so this one's for them!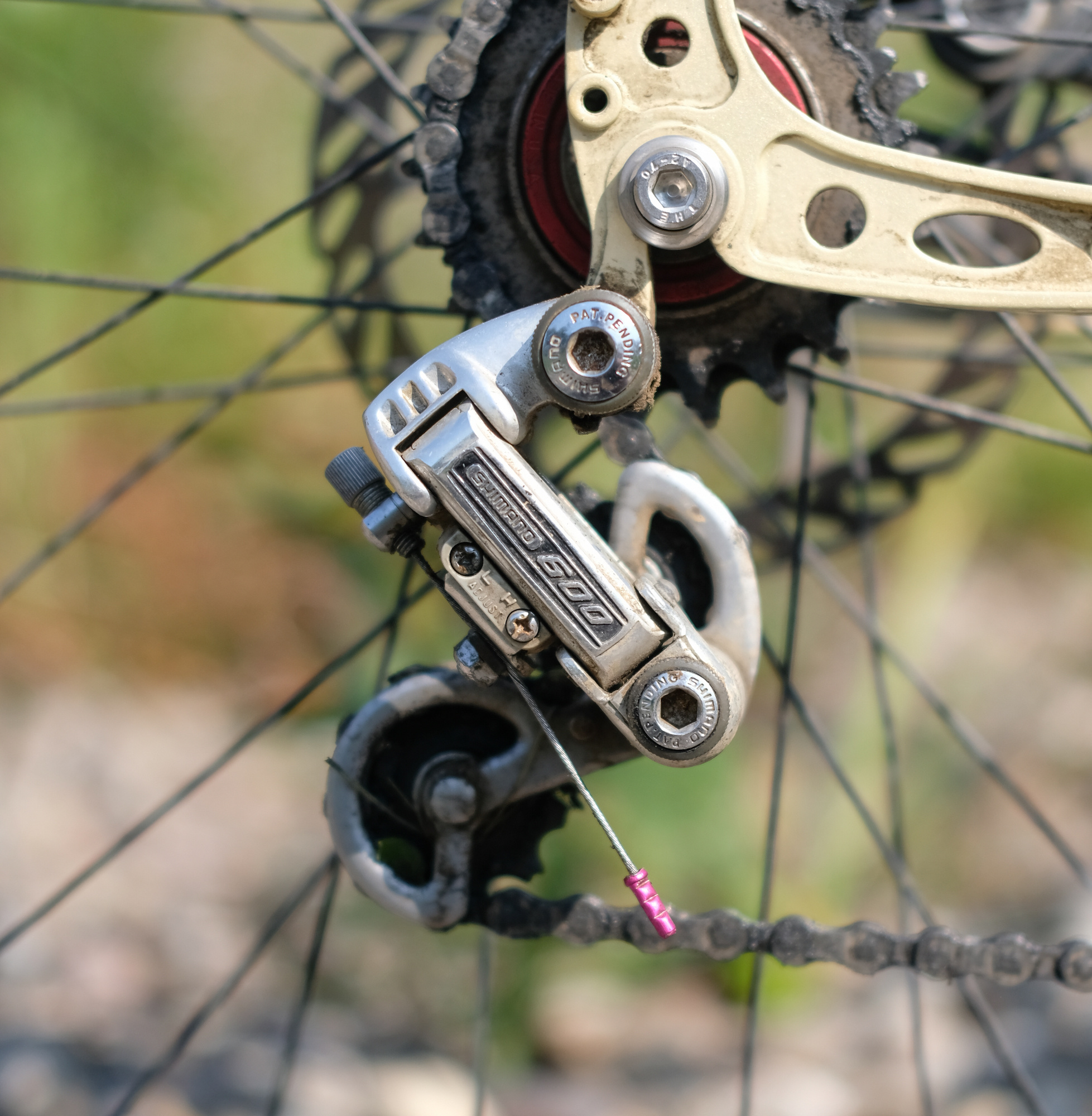 And here's the weirdest part. We're living in a strange time, and parts sourcing for our customer's builds has been a challenge, to say the least. I feel as though every day I'm becoming (evolving? regressing?) more and more into the old-timey retro-grouch club. I pore over back copies of Rivendell Readers, gripe about new groupsets and their lack of inter-changeability, am terrified of electrification, and covet parts that are as old as me. This build is very much an expression of that. It's a 2x2 transmission, inspired by our friends and Bassi dealers Crumbworks. It's got a double crank (40/34) in the front that I manually shift (upshift with my hand, downshift with my toe) and a double freewheel (20/22) that I shift with the barrel adjuster on the Shimano 600 (6100 series) derailleur. It may seem strange, or dumb, but I'm into the simplicity. A lot of my bikes are single speeds and albeit a slight departure from that, this transmission gets me in the same mind set. Since I don't shift with my hands while riding, I always feel as though I'm in the right gear and adjust my cadence and effort accordingly. It's fun, try it!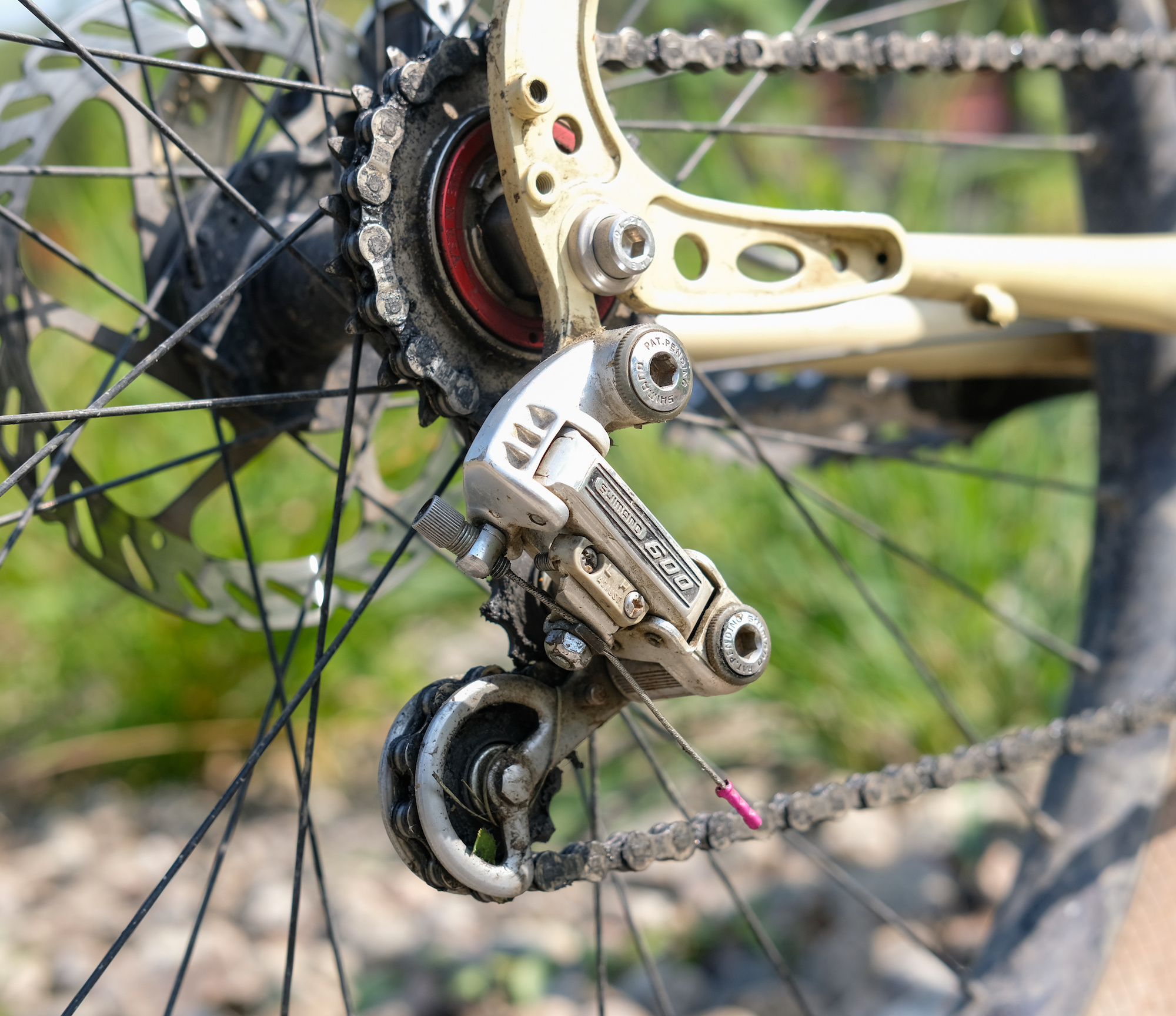 All said and done, I've been stoked with this build. I rode it on Matt's yearly Dynamo ride, inspired by classic UK overnighter Dunwich Dynamo. It did fantastically on the rolling hills of the Rivière Rouge and was plenty comfy for a hallucinatory overnight 150km. Then I rode it for a week with a bikepacking setup in the Chic-Choc mountains in Gaspésie, where you can find the namesake for the Hog's Back. Cruising the ATV trails of Réserve Faunique Matane, climbing up Mount Logan, wild descents in Parc National de la Gaspésie, long rolling gravel days to Murdochville, power line rough stuff, riverside doubletrack, Mont Béchervaise single track, and a glorious finish in Parc Forillon were all a pleasure on this whip. Check out the route here, we had a great time and I'd recommend it to anyone!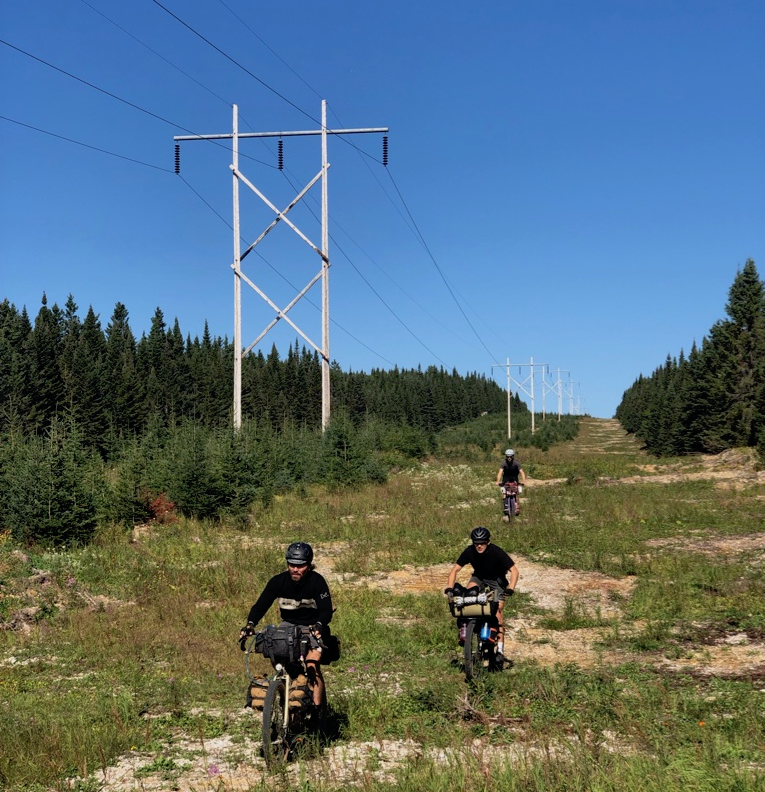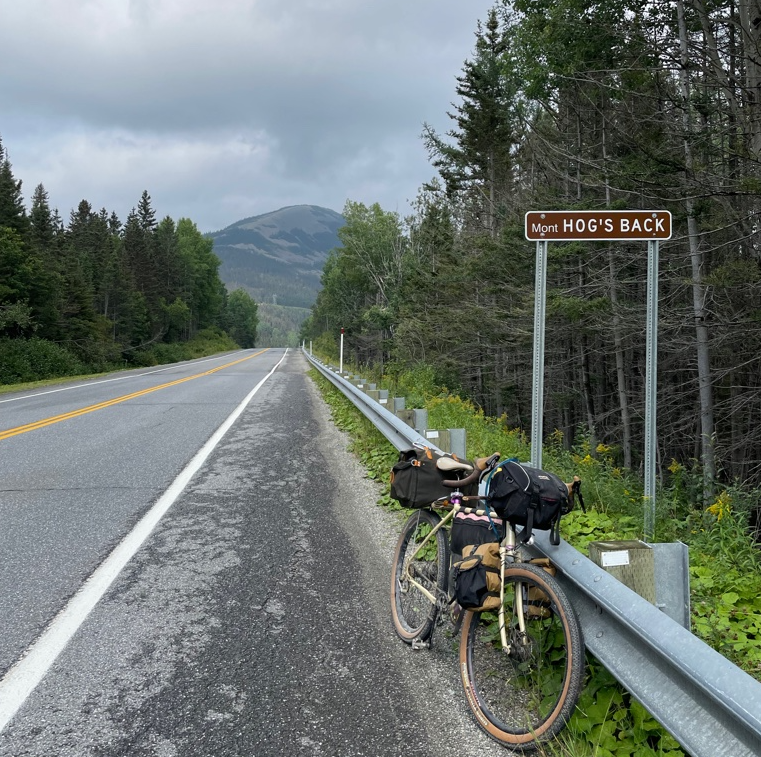 What's on it
Hog's Back

Frameset

, sparkly beige, 51cm
White Industries EC34 Headset, Purple
Tange

Bottom Bracket

Bassi Classic Double

Crank

, but with the big ring swapped out for a 40
Shimano Deore XT PD-M730 Pedals
SRAM PC-870 Chain
White Industries Double

Freewheel

, 20/22
White Industries ENO rear hub, in case I want to pull the derailleur and single speed it
Sapim Race double butted

Spokes

Velocity Blunt 35 

Rims

Sim Works Super Yummy 

Tires

, 26"
TRP RRL 

Brake Levers

, hoods swapped out to match the peanut butter sidewalls
TRP Spyre

Brake Calipers

Paul QR Seatpost Collar
Bassi Forged

Seatpost

Brooks C17

Saddle

49N Stem, which I'll swap out for a Discord 

Peeper

now that I'm sure the fit is right
Salsa Cowchipper

Handlebar

, 52cm
Newbaum's Cushioned 

Bartape

Widefoot CargoMount

Cage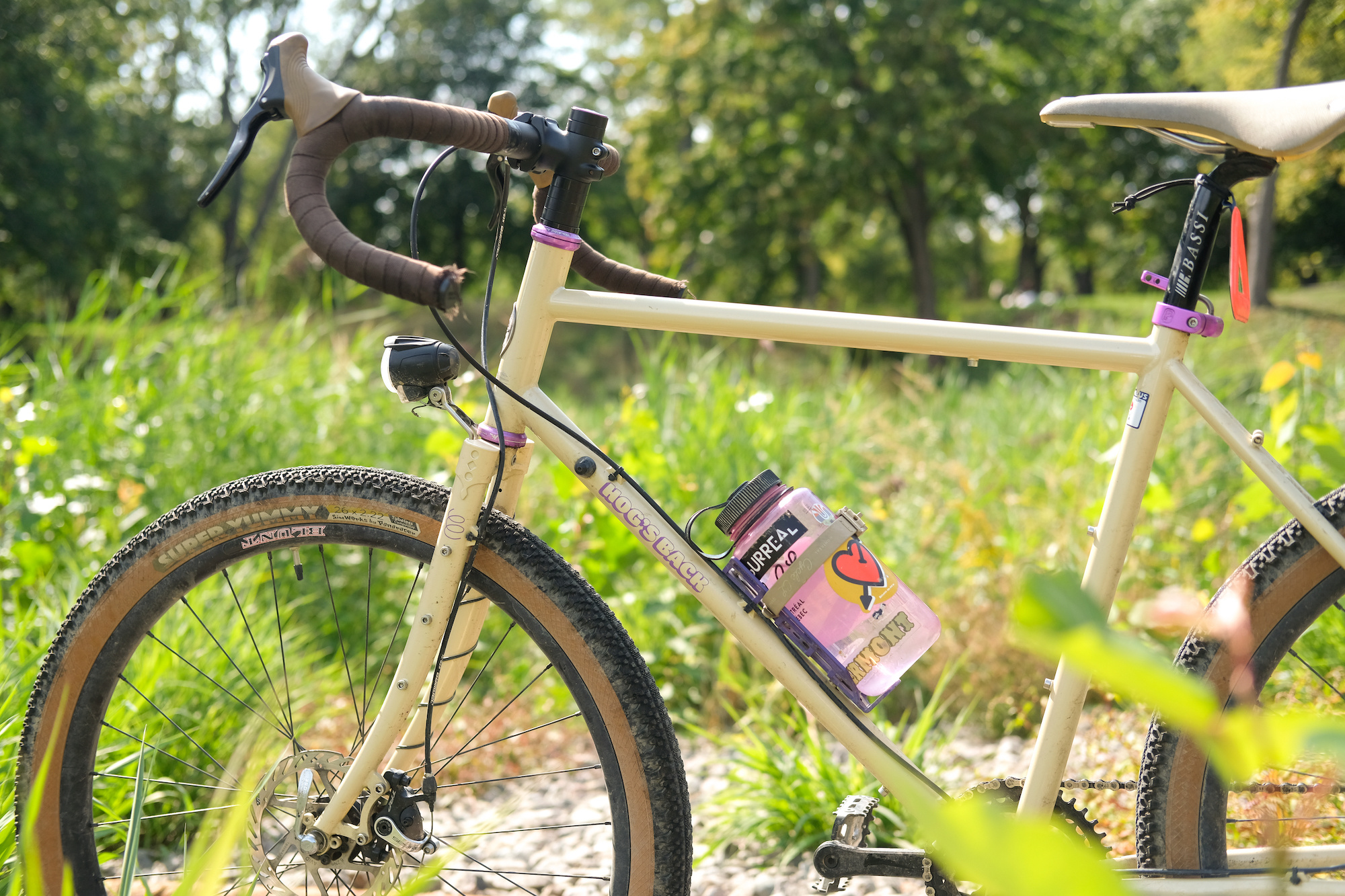 Pix by @jochhoo, @jenny_bernier, and me 
Leave a comment