Our Montréal stores are now open seven days a week for the summer season
Login
Log in if you have an account
Register
By creating an account with our store, you will be able to move through the checkout process faster, store multiple addresses, view and track your orders in your account, and more.
Create an account
Custom bicycle builds
Costs
All custom build projects are charged a base fee of $200. This covers our back-and-forth consultation in person or by e-mail, and the time it takes one of our mechanics to build up your bicycle. Beyond that, certain services will incur an additional fee, such as hand laced wheels, tubeless setup, dynamo setup, or others. We'll clearly quote this from the onset and advise you of anything that might crop up during the process so that there are no surprises and to keep everything transparent.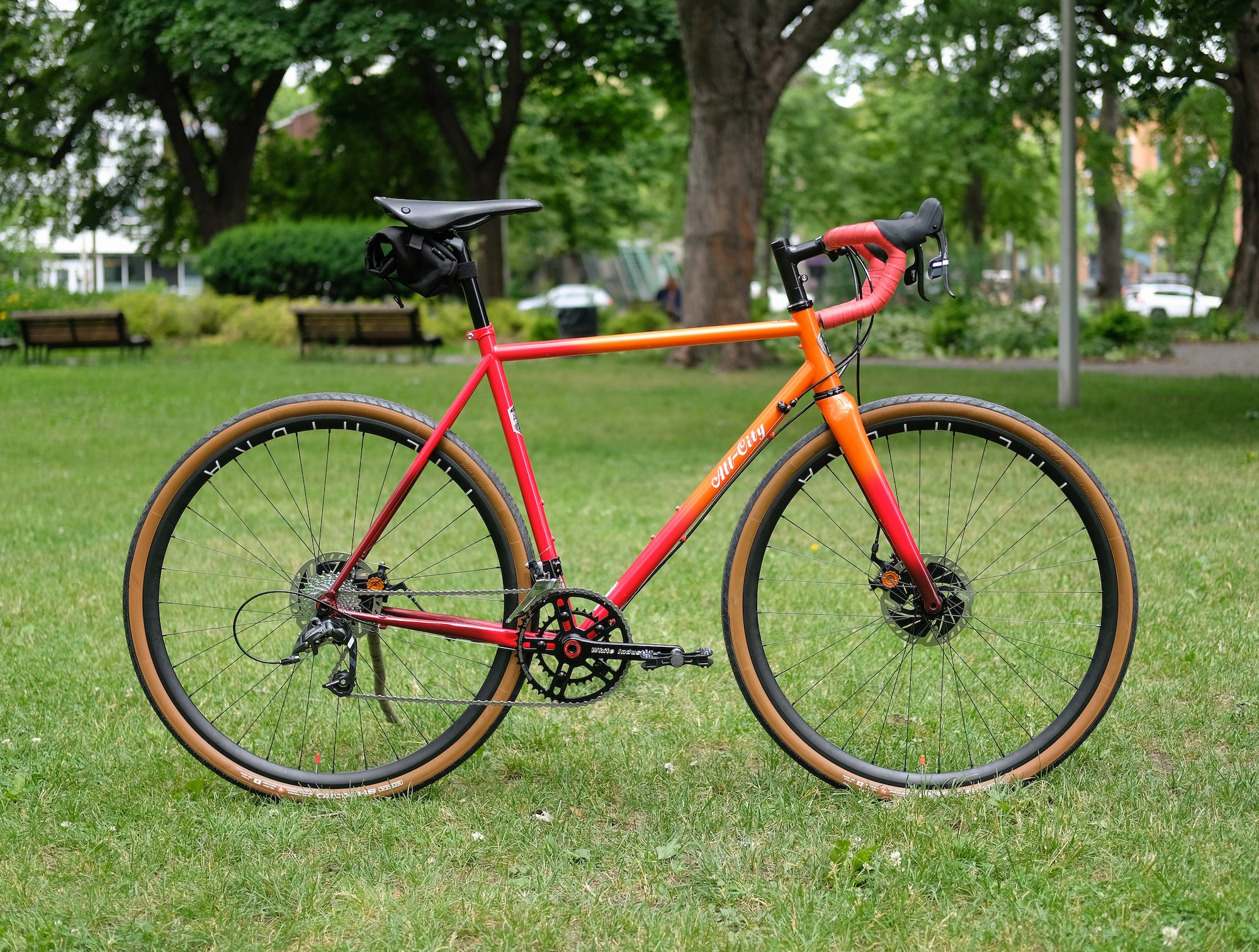 Appointments for custom bicycle builds
We build kind of a lot of custom bicycles, despite offering excellent in-stock options. These customs are bikes with a stock frame (which is best for 99% of riders) but built up with custom parts which are too specialized, odd, or rare to find on a regular production bike. You might also want to personalize which parts are on your bike, or have specific needs that aren't adressed by something already built.
We always encourage people to reach out to us by email for this kind of build, since our Web team (Julian, Roberto and Simon) are some of our most experienced bicycle builders and we answer pretty quickly during office hours, but for some folks it's got to be in person, which we understand since we're the same way for a lot of things in our lives. Asynchronous communications work best for some and not at all for others!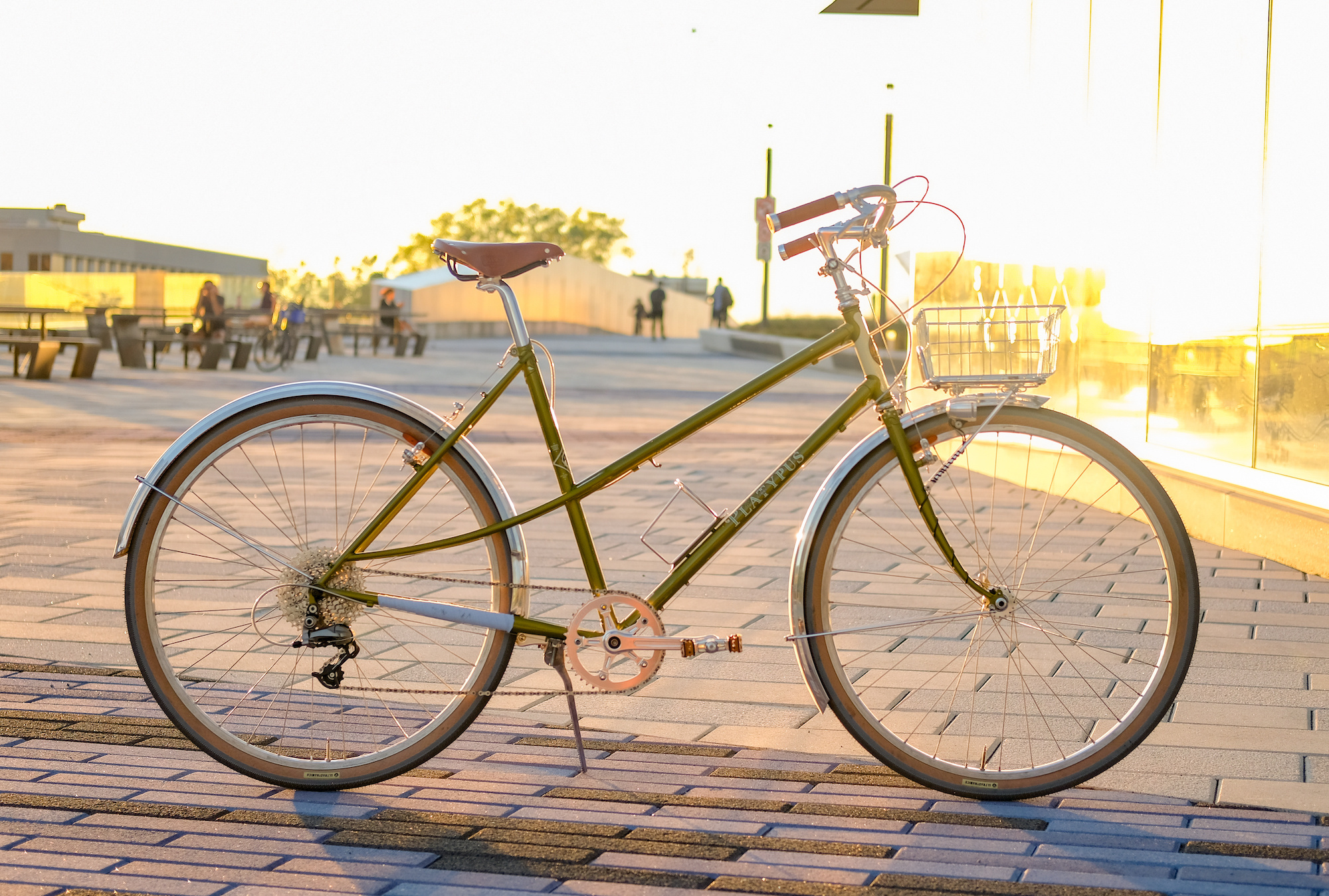 The proposition
If you've been thinking of getting a custom bicycle built and have stopped by the store, however, you may have noticed that it's hard to get down to the bottom of everything when our staff have five other things coming in or heading out, and dozens of "just a little question". We don't love when that happens, either, so we're going with Sam's idea of welcoming you in on an off-season day for private one-on-one consultations so you and he can take the time to focus on what might be a complex set of choices for a custom bike.
This appointment type will give you a couple of hours' time with Sam M, our champion of strange and impeccably-specced builds. This will be on a Sunday when the shop is closed, so there'll be absolutely no distractions beyond geeking out on finding the weirdest, best parts. The frame on which to build can be our Bassi, Rivendell or Memento frames, or any other that we have access to, even if it's not in the shop. You can also bring your own frame, which usually works best if it's a new frame that doesn't use proprietary parts.
Sam is an absolute pro, a sweetie, and a huge bike nerd (not a secret to anybody who's met him) and knows off-hand exactly how to get almost any part you can think of, and make sure everything is compatible, but in the rare cases where he doesn't then he definitely knows who else on the team does. We'll all work with him to get your idea for a dream bike built for you.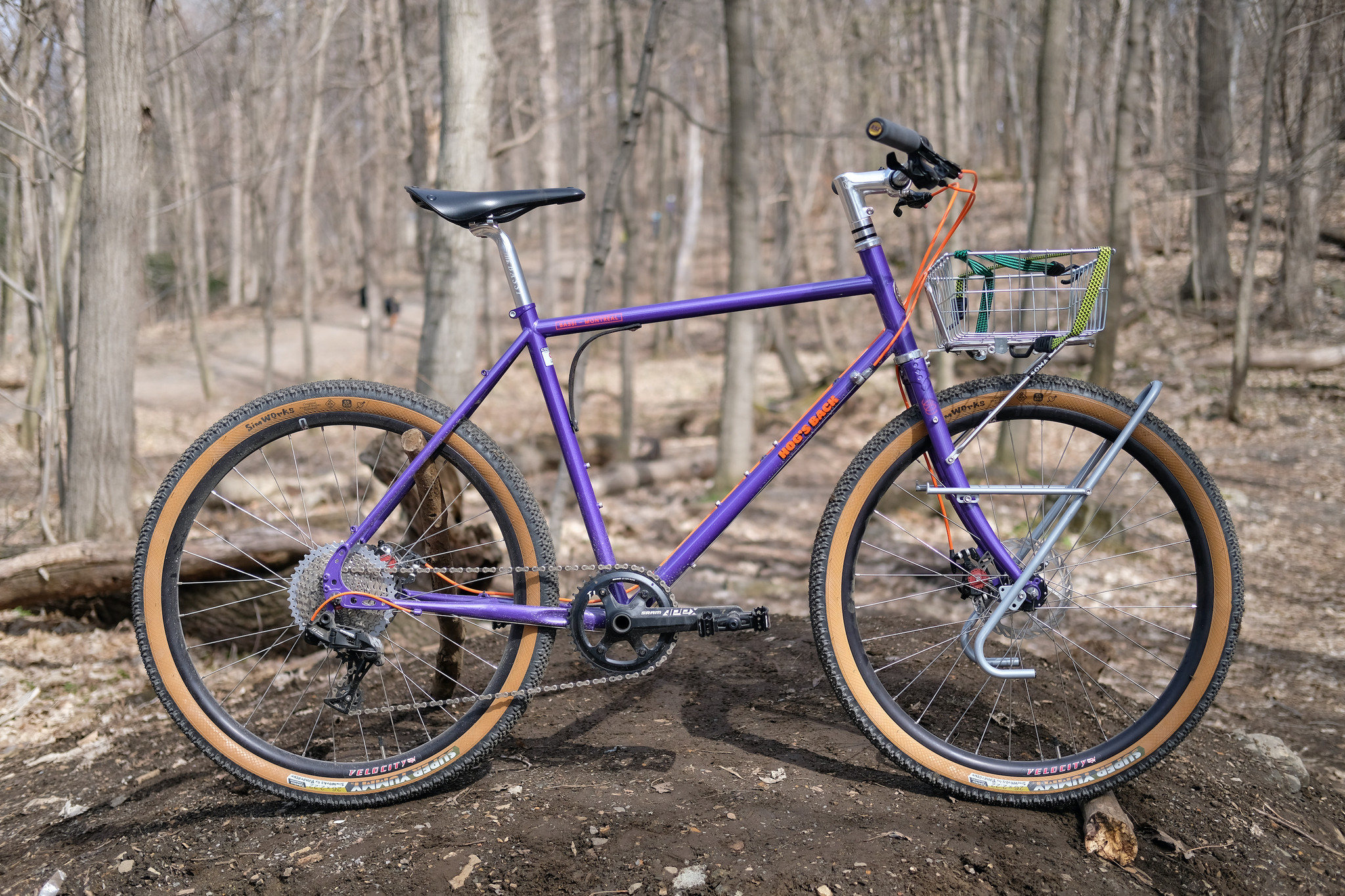 The run-down:
We've got to charge for this in-person individual and focused service, but it's best to think of it as a deposit on your next bike, since if you buy a Bassi frame, or a frame's worth of parts for a complete build, your appointment fee will be applied as a partial payment. Same if you do wind up getting us to build your custom.
This meeting will include taking measurements to fit you just right before the bike is even built, making sure we're on the best frame and getting all the parts figured out for the type of riding you do, as well as whichever extras you might need now or at some point. We'll also, of course, do all the necessary followup after the appointment, but if you've been a Bassi rider in the past you already know that.
If you want to see a small fraction of what the customs we make are like, check these out: some recent custom builds. A lot of 'em are on the frames we sell, but there are a few bring-your-own-frame builds in there. The really weird builds are usually our own bikes: you can see our staff customs here, including themes of "no Shimano or SRAM shall touch this bike", "what if this terrible bike had fancy parts" and "what if this fancy bike had terrible parts".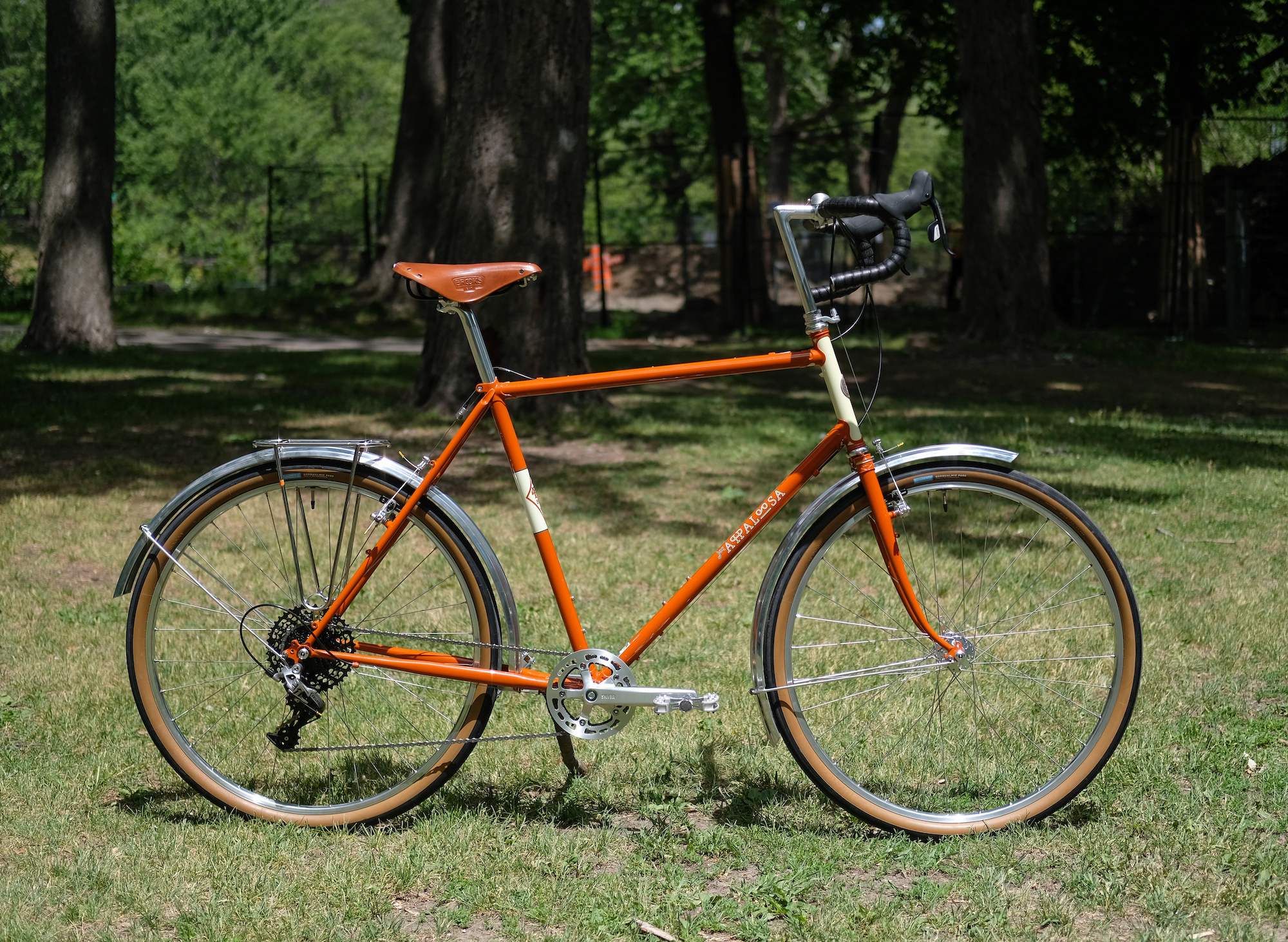 OK, let's do it!
Sign up here for a time that's good for you. Appointments are open on Sundays in the off-season only.
100$ for a two-hour private in-person consultation, paid day-of. Non-refundable, but can be applied as a payment on any frame or set of build parts worth 900$ or more, or for a complete build.
Please remember that Sam won't be able to actually build the bike for you right away! This is a no-tools appointment, sorry.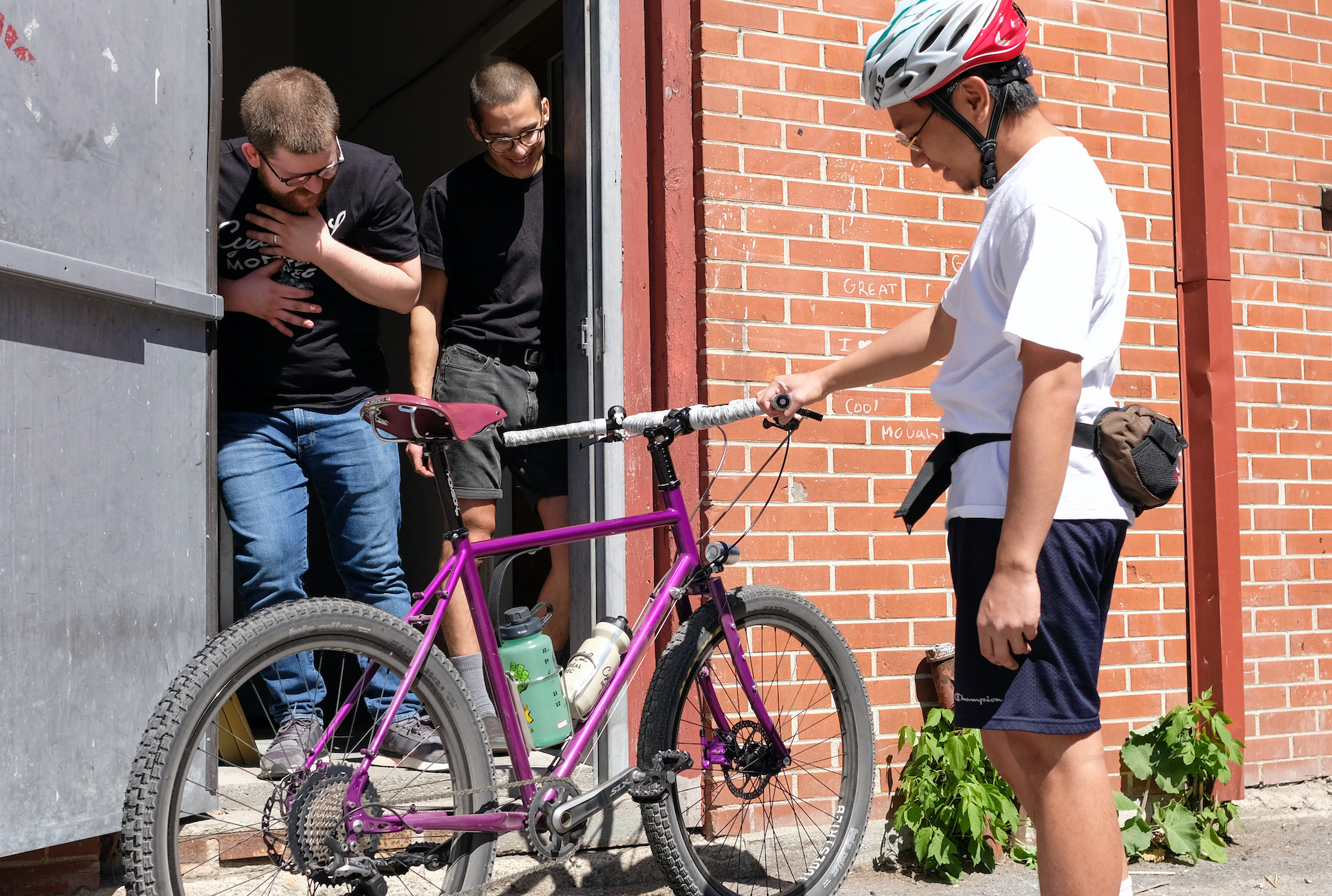 That's Sam on the left, and the bike is a sweet example of the wild customs he loves.