Our Montréal stores are now open seven days a week for the summer season
Login
Log in if you have an account
Register
By creating an account with our store, you will be able to move through the checkout process faster, store multiple addresses, view and track your orders in your account, and more.
Create an account
Newsletter December 2021
03 Dec 2021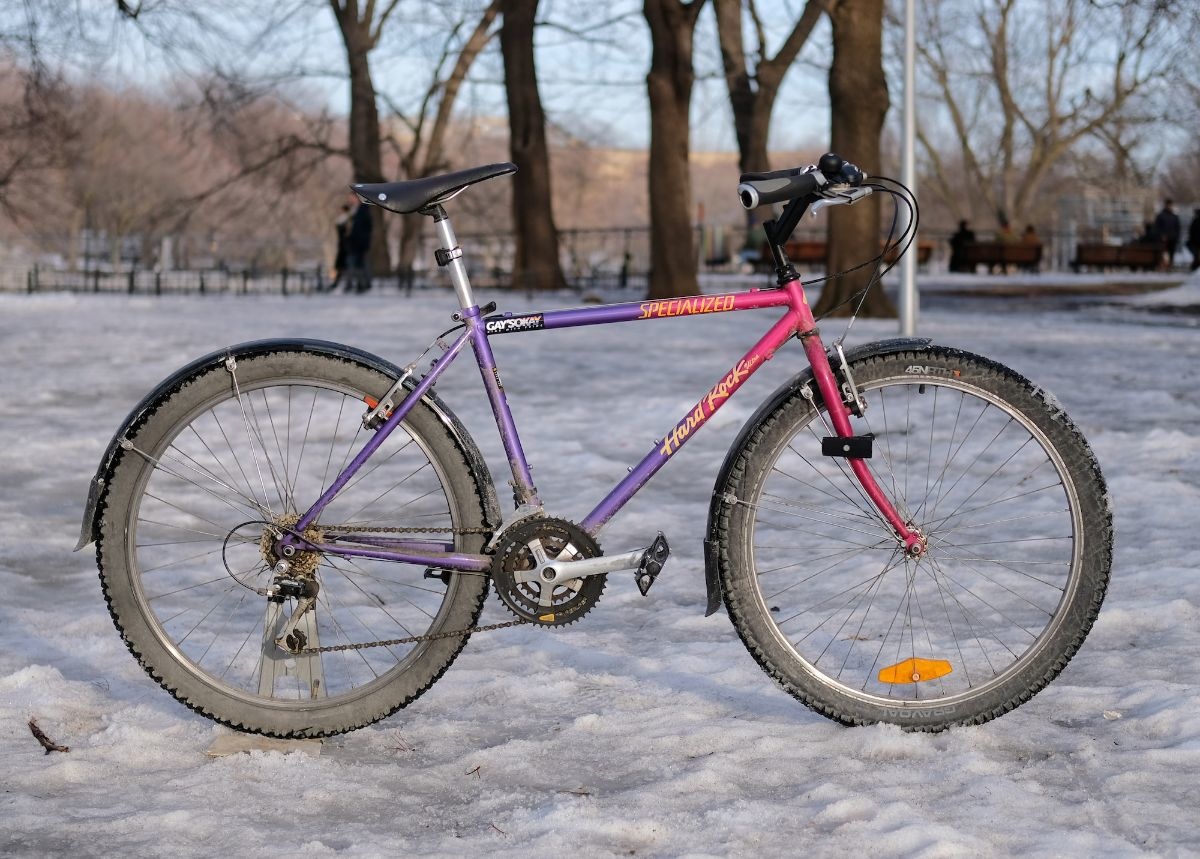 *|MC_PREVIEW_TEXT|*
Winter cycling, specials, and a preview of 2022
Welcome to winter cycling, friends! The days are brisk and we've had snow and ice in Montreal. Happily, we're all stocked up with warm gear, winter tires and fenders, and both our shops can install them without an appointment. We'll be open until the 23rd of December, and will close until the 3rd of January for some R&R.

In other good news, we got in touch with Rivendell Bicycle Works, and we now have a very firm idea of which frames and bikes we'll be getting next year, and when. Read on for that info.

We also got some very excellent restocks and new products that we've been waiting on for many months. You may have seen some of these on our social media: Stridsland parts for old-school MTB cranks, MKS pedals, and Nitto handlebars and stems.

There's now also a stock of complete Bassi bikes at the stores, since we've been able to make headway on building them. You can swing by to see them if you want, both stores have some!
First things first: the specials
We got a screaming deal from Terry down in Burlington on some overstocked saddles, so we're passing along the savings. Their saddles are supremely comfortable, even for very long hours in the saddle, and we have men's and women's models. For newsletter friends, use the code TERRY until the end of this year for an extra 15% discount on all in-stock Terry saddles!

I've also been struggling with how to ship orders of bicycle rims. Our shipping calculator gets weird with objects that are very large but lightweight, and wouldn't work properly when someone had two rims (the normal amount of rims) in their shopping cart. So! We're just going to ship rims for free in Canada if you buy a pair. Try it out, we've got some for all sizes of bikes. You can also get us to cut you some spokes if you're putting together your own wheels.
The Rivendell update
I had a good phone call with Vince in Walnut Creek the other week and we worked out what frames C&L will be able to get over the course of the next year. We've committed to more or less all the upcoming models, and we have some good notions of when they should be on their way. You should check the product pages for more info, but here's the skinny: We'll be getting all sizes and colours, whatever they turn out to be. We don't intend to pre-sell the frames, but we're happy to reserve one for you if you commit to a custom build! Just shoot us an email or drop by the stores. Also, Julian is leaving his Clem at the Rachel shop this winter if you want to have a real thorough up-close look.
Winter biking
It's absolutely the time to get ready for winter. Over the next couple of weeks we'll start seeing more snow and ice. Just in time, we made sure to have a good stock of winter tires and winter clothes for you.
45NRTH clothes from Minnesota: superb balaclavas and winter hats. A good windproof or wool hat, along with a scarf, will be comfortable on all but the coldest days in Montreal. They also have 650B and 27.5" studded tires!
Just loads of studded tires: of course the Schwalbe classics, in 26" and 700C. Always a sure choice. We also got a small stash of 27" studded tires for your old 70s bike that's still kicking through the winters, but you'll have to pop by the store for those. Julian had to go down to Vermont to pick them up and bring them across.
There's a nice writeup of Sam B.'s winter bike here, if you want to see what they can look like.
If we're missing any important winter gear, shoot us an email and I'll see what I can find!
Restocks and new bits
The new:
Stridsland parts. This guy's a real go-getter, and likes vintage mountain bikes, which a lot of our friends do, too. He makes limited batches of no-drop chainrings for 90's cranks in the 94mm BCD five-bolt standard, which are basically impossible to find otherwise. He also has some very fly coloured bolts and bits.
MKS Bear Trap pedals. This is a re-do of an old SunTour model. Blue Lug, Japan's alt-bike leaders, convinced MKS (who made the originals!) to manufacture these. They're super wide and grippy, and have the unbeatable MKS reliability and classic good looks.
The restocks:
Everything else we usually buy from MKS. We've got (in principle) a year's supply of pedals right now, with plenty of variety.
I don't know quite how to express the beauty of Nitto's handlebars and stems. The differences are so small compared to generic parts, but they truly add up to a gestalt that makes the mind run to poetry. It doesn't hurt that they're also tested for far greater strength than is at all reasonable. We restocked many stems, handlebars, seatposts, and a few other little bits. Just bask for a while in the elegant curves.
Coming soon:
Starting in January we'll be stocking Gilles Berthoud. They're a workshop in southern Burgundy who make excellently designed, durable and beautiful parts, all manufactured in-house. Their saddles and fenders will be our focus to start off with, but please do get in touch if you need anything else. They're a pleasure to work with so we'll be glad to special-order for you.
Phew. That was a big update, but I thought you'd like to know. If we don't see one another until then, happy holidays, and enjoy the winter snows!
Leave a comment