Free shipping on orders over $125 (oversized items excluded)
Login
Log in if you have an account
Register
By creating an account with our store, you will be able to move through the checkout process faster, store multiple addresses, view and track your orders in your account, and more.
Create an account
Newsletter February 2022
04 Feb 2022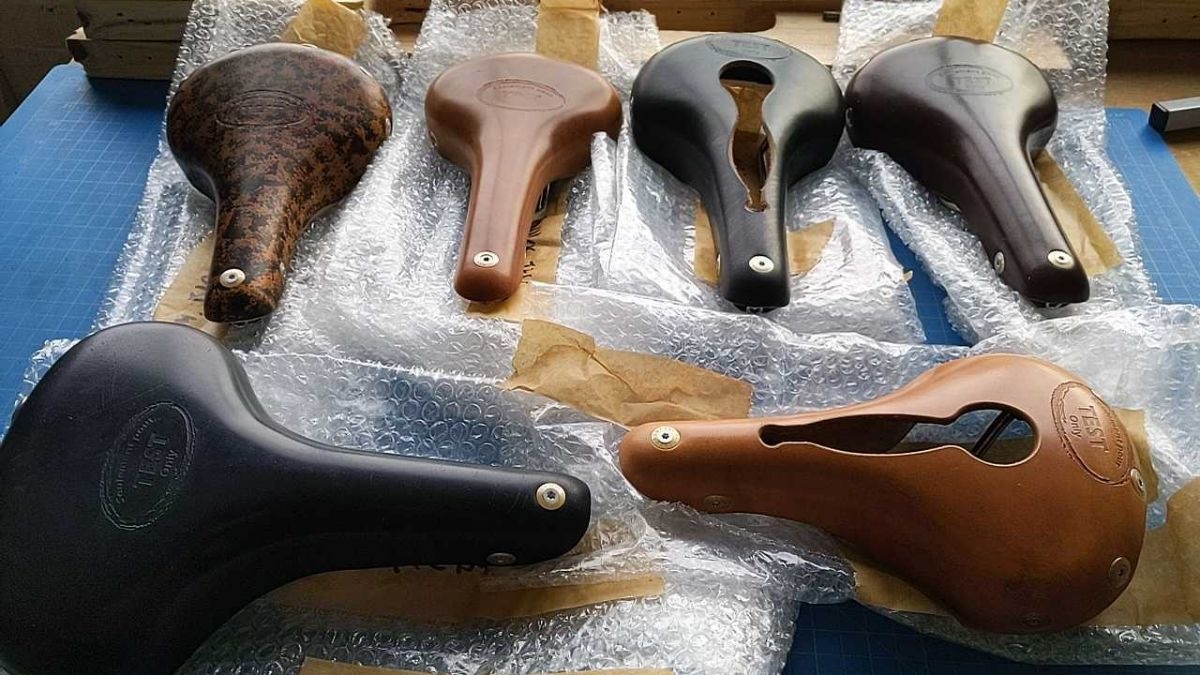 *|MC_PREVIEW_TEXT|*
End-of-winter specials, fresh hot saddles, and upcoming bikes
Okay, yes, end-of-winter is optimistic, but we're genuinely halfway there. This will be a short one, I just want to point out some upcoming and freshly-arrived things many of you wanted to know about.
Today's special
We're knocking 20% off the price of all of our studded winter tires. If you've realized you need something a bit chunkier, or you've done a few winters on your current ones, now's the time to get a fresh grippy set! This is good in-store and online, while stocks last.
Gilles Berthoud
As promised, these Made-in-France products are here! They make a devastatingly handsome leather saddle, about the price of a deluxe Brooks but fully maintainable and rebuildable (and in my opinion they choose nicer leather for the tops). Want to switch to titanium rails someday? They'll sell you the parts and you just need a Torx wrench.

You'll be able to borrow these to try out, the photo up there shows the test models we got, it really covers the spread.

We also got their bar-end plugs to match the saddles, and their famous little bar-end mirror. We'd ordered a load of fenders, too, but their machine for 60mm fenders needed parts and some calibrating, so we'll have those in the spring. The price is right, though, and the fenders are super-long and stainless steel!
Upcoming frames
We've gotten a full run of Velo Orange Piolet frames. They're kinda like a Hog's Back crossed with a Surly ECR, with VO's nice-weird styling. They're waiting to cross the border so they'll show up soon. Write in if you'd like to talk about a build.
Pre-orders are open for the Rivendell mountain-bikey Hillibikes, the Gus and Susie. Arrival got pushed back a month but they'll be here in the spring. That's the '20s for ya.
Bassi: although we have a good stock of frames, production has just now started on the next run of Bassi frames, a restock of the Montréal and Hog's Back. The Montréal will be black, as usual, and we're settling on HB colours, you'll like them. Rough ETA is end-of-summer, hopefully not as late as the 2021s. Not major news, but things are ever progressing.
Restocks now and in the next week
The fine folks at King Cage finally finished our huge order of steel bottle cages, and we're stocked for 2022. They do amazing work for a thoroughly fair price.
Our big Velocity rims order arrives next week. They've been working hard at the factory in Minnesota, including a custom size of a current rim, just cause we asked. We've got a bunch of variations, sizes, drillings, finishes, etc. so if it's confusing, just write in! We intend to build a bunch of wheels with these before the weather gets mild, so it's a good idea not to wait if you know what you want. We're also down for custom jobs.
Some recent bike reading
We've been seeing lots of funky custom Bloomfield builds from staff and our dealers, so we put together some different takes on our newest frame, a track/city/rando/cross singlespeed. Short read, to-the-point, but great photography from Jo.
We also posted a little something about a bike you really can't get anymore, from that run of rigid chromoly Marinoni MTB old-stock we had a while back. It's a really cool look at one of our builds after a year of use and customizing.
Nothing to do with our bikes, but this week I stumbled on this article about what Graeme Obree has been up to lately. Never mind the weird tone from the author, I love the parts and choices on this bike. Graeme has always had some of the most idiosyncratic ideas about going fast on a bike, and really puts them into practise. For those who don't know, Graeme Obree has held some world records and basically invented being aerodynamic on a bike. He was so fast that his bike designs and positions were banned. He deserved better than the way the racing world treated him.
All right, that's all this time. Cheers, and keep an eye on those later and later sunsets!
Leave a comment