Free shipping on orders over $125 (oversized items excluded)
Login
Log in if you have an account
Register
By creating an account with our store, you will be able to move through the checkout process faster, store multiple addresses, view and track your orders in your account, and more.
Create an account
Vincent's Hog's Back
26 Jan 2021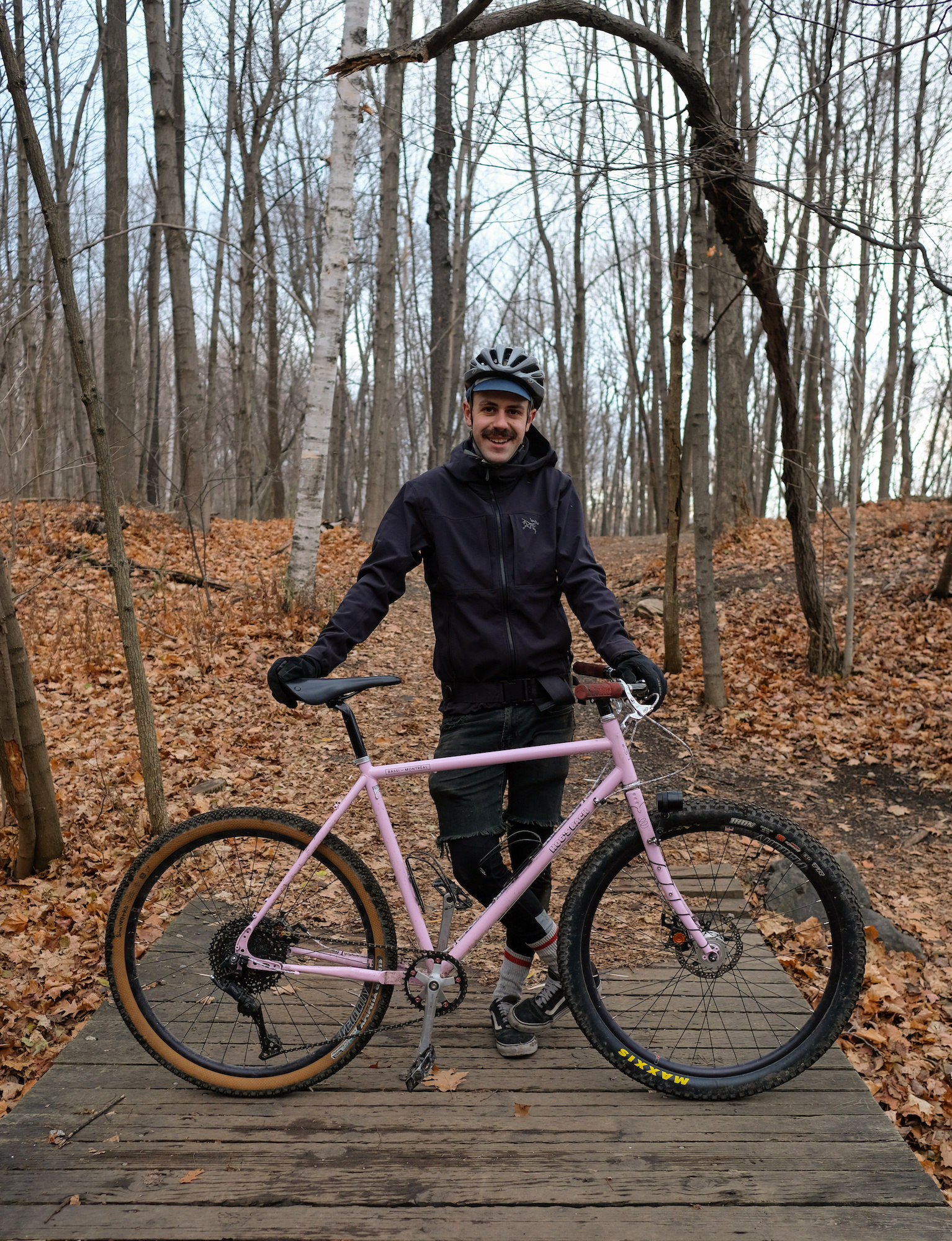 I started 2020 telling myself (and all of my co-workers) I wouldn't get a Hog's Back this summer, because I was already getting a hardtail. So, yeah… Here's a piece about the Hog's Back I got this summer.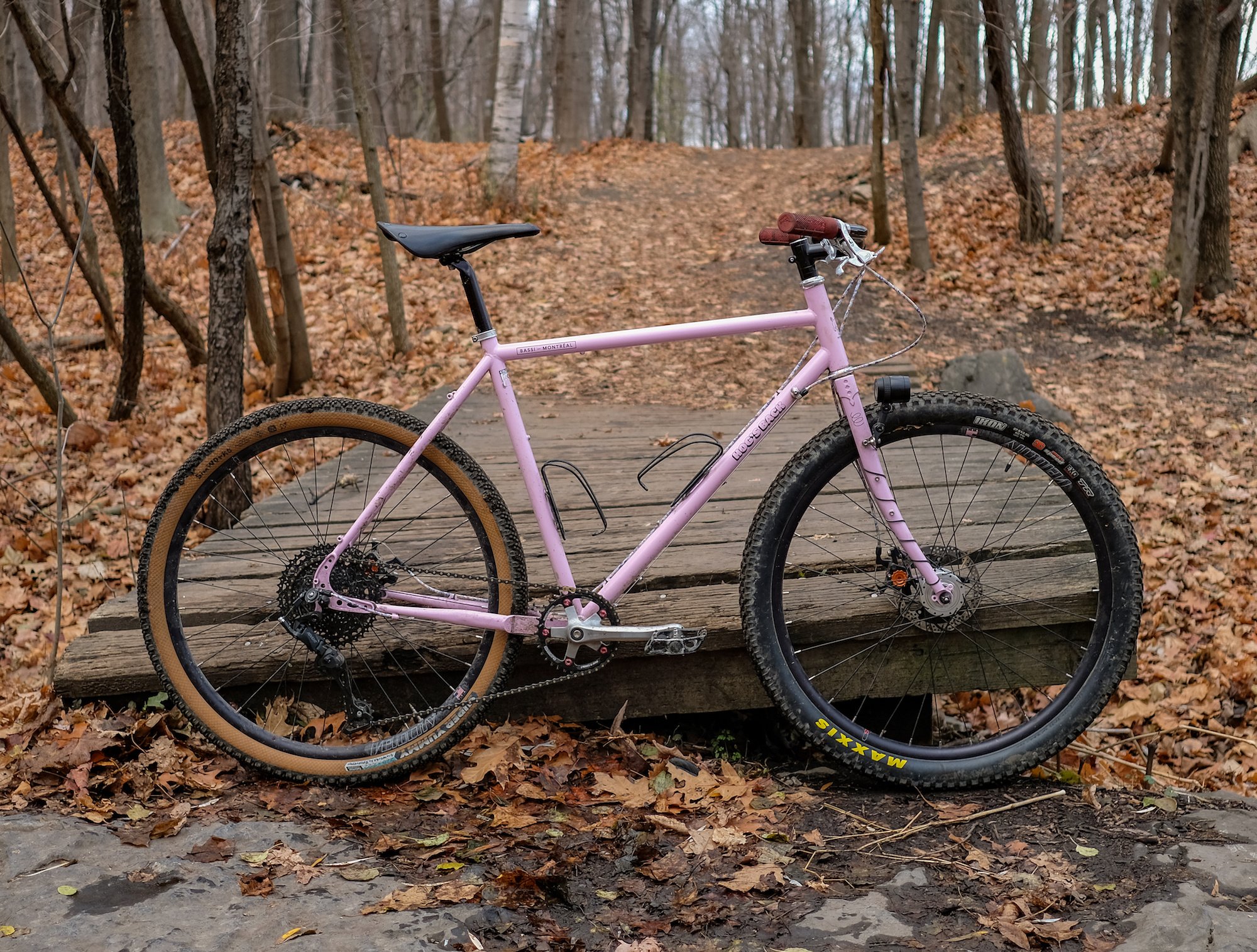 This build was a long time in the making, mostly because of stock shortages, but also because of my own indecisiveness. My good friend/colleague/boss Roberto and I spent soooooooo much time discussing and ping-pong'ing ideas about what our respective Hog's Backs would/could be like. Mine went through many iterations in my mind, ranging from dirt drops to triple cranks. I finally settled for what I consider a mountain bikey, off-road/rough-stuff oriented setup. It's not what I would call a "beautiful" bike, and by that I mean I didn't pick the components solely based on aesthetics or on how well they match together -- except for the flowery housing, it just looks too good. I really chose the components based on their simplicity, durability and ease of replacement.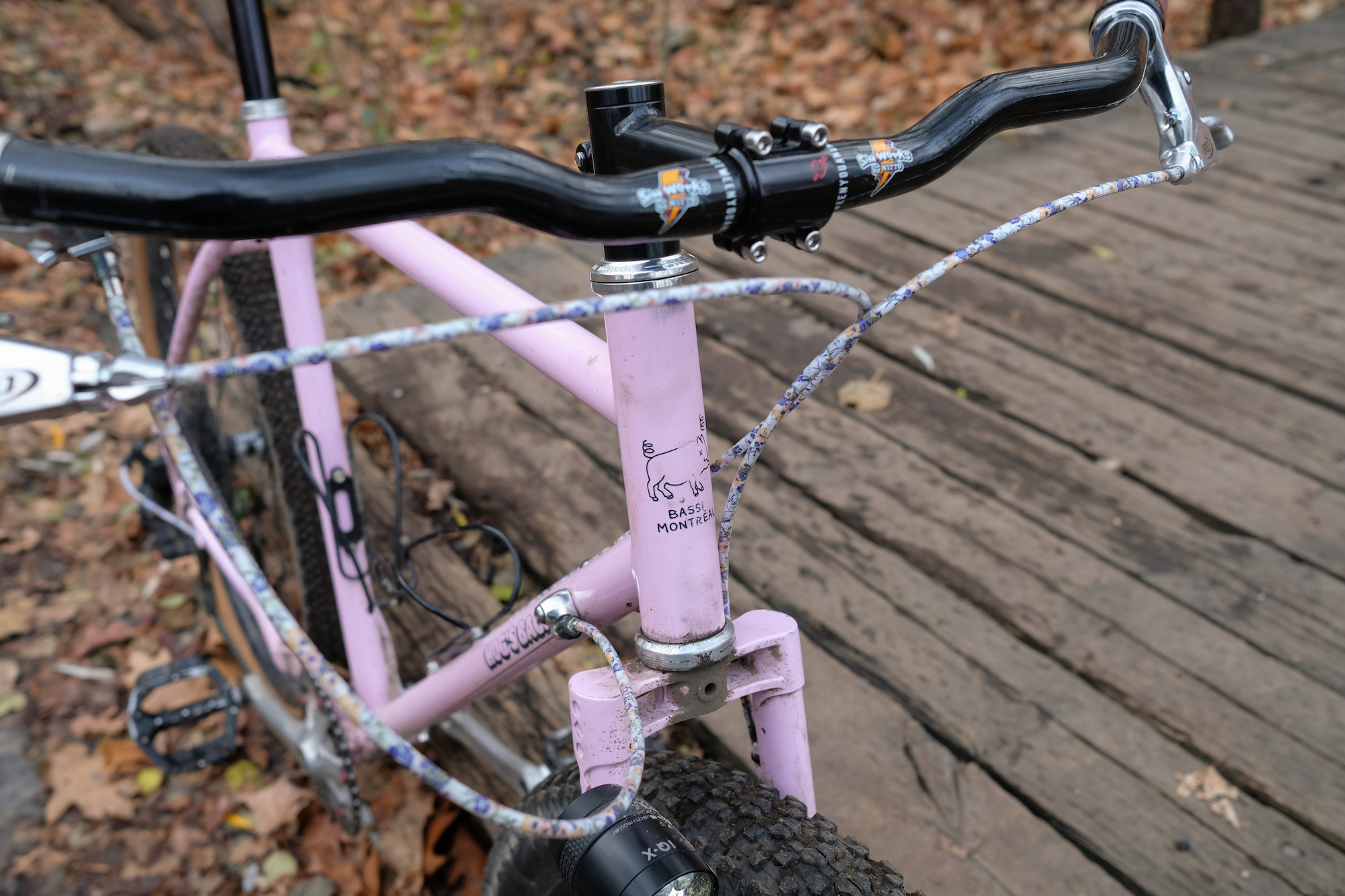 The all-steel cockpit from Sim Works is just the best. The Fun 3 Bar is super comfortable, but doesn't feel awkward on tech-y MTB terrain (and also looks fly as hell). The White Industries headset was an easy choice : more than decent price, easily accessible replacement bearings, and obviously amazing quality. The wheelset couldn't be simpler: DT Swiss Champion straight-gauge spokes handlaced in 3-cross, Velocity Blunt SS 32-hole rims, DT Swiss 350 hub at the rear and the new Kasai Field-Serviceable Dynamo hub at the front (no need to ship my wheel halfway around the world if anything happens to the hub!). All this makes for a very sturdy yet lightweight wheelset. This might come as a shock to some, but I actually love the silent freehub of the DT Swiss 350. I can just quietly listen to the surroundings while coasting, without having a giant bee chasing me. The Sim Works Super Yummy 650B x 2.22" is a great all-road tire, but I decided to go for a bigger and knobbier Maxxis Ikon 650B x 2.35" at the front, because why not. Both have tubes in 'em.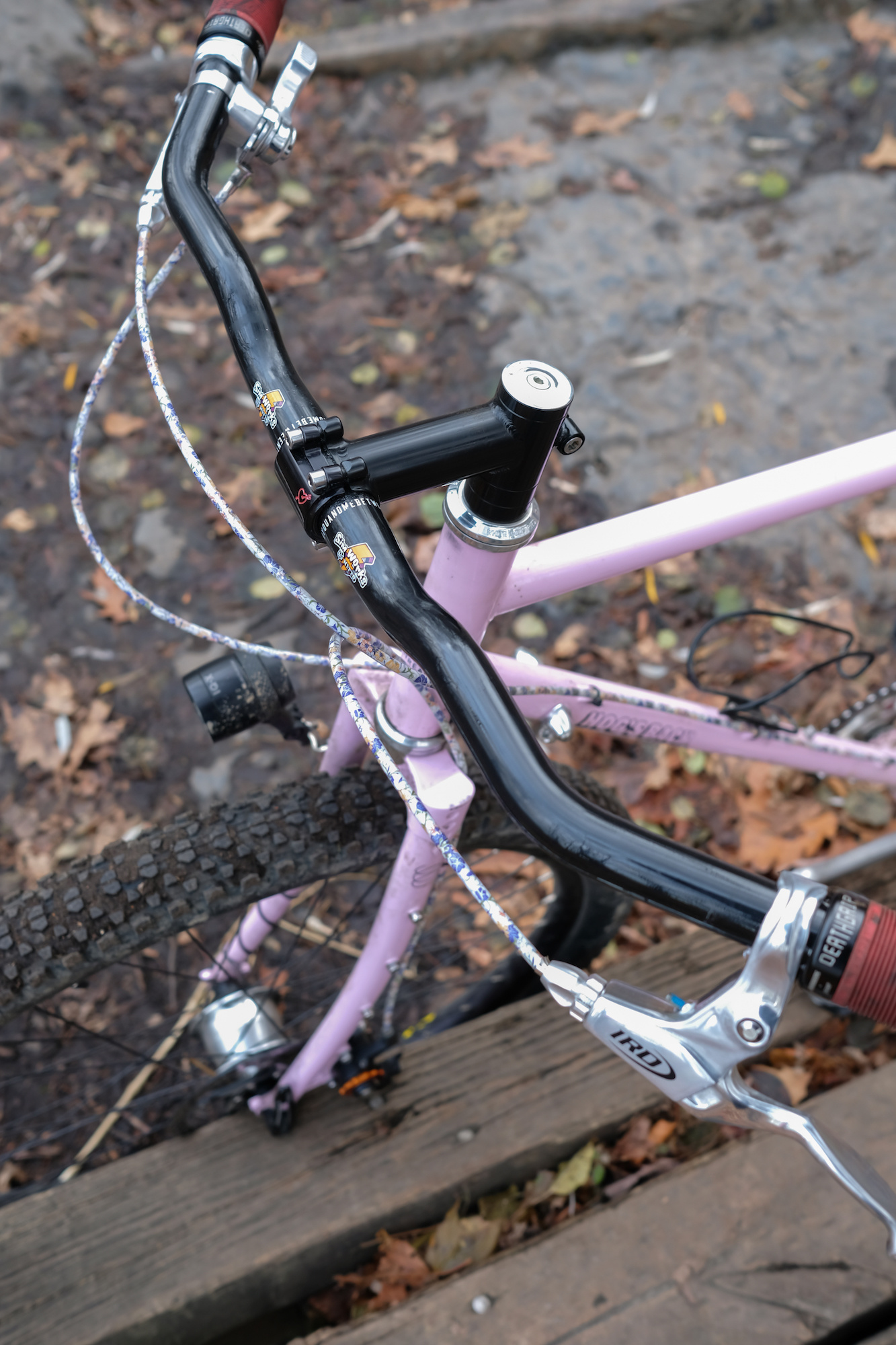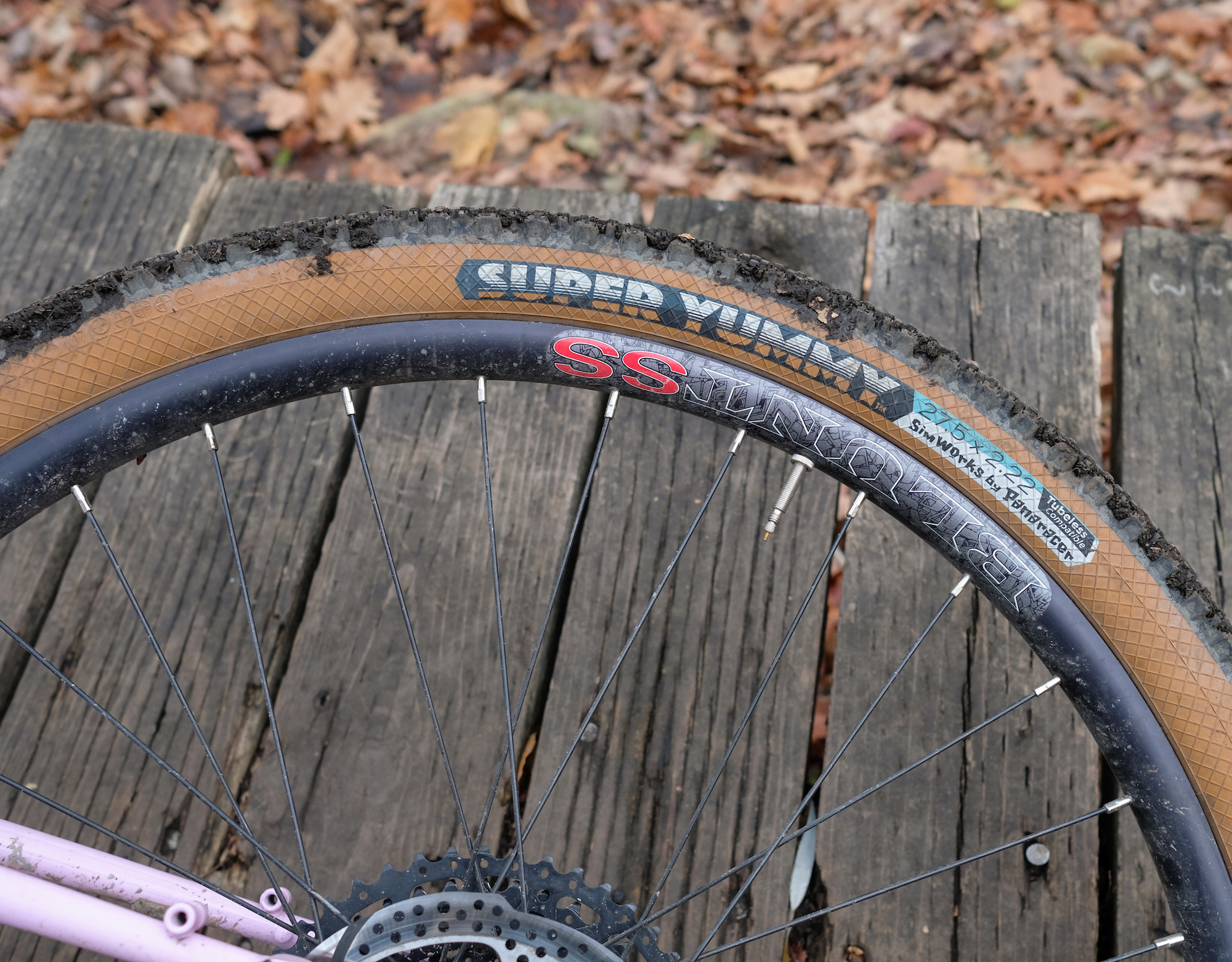 Although it took me quite some time to be at peace with how expensive they are, I went with Paul Klampers for the brake calipers. They might not be the most powerful on the market, but in terms of durability and serviceability nothing comes even close.
I always like to dig deep through our suppliers catalog to find the lesser-known, but oftentimes most interesting, components nobody uses. That's how I found these neat brake levers from IRD. They do both long- and short-pull, have a long enough lever, they're tough, and they look great.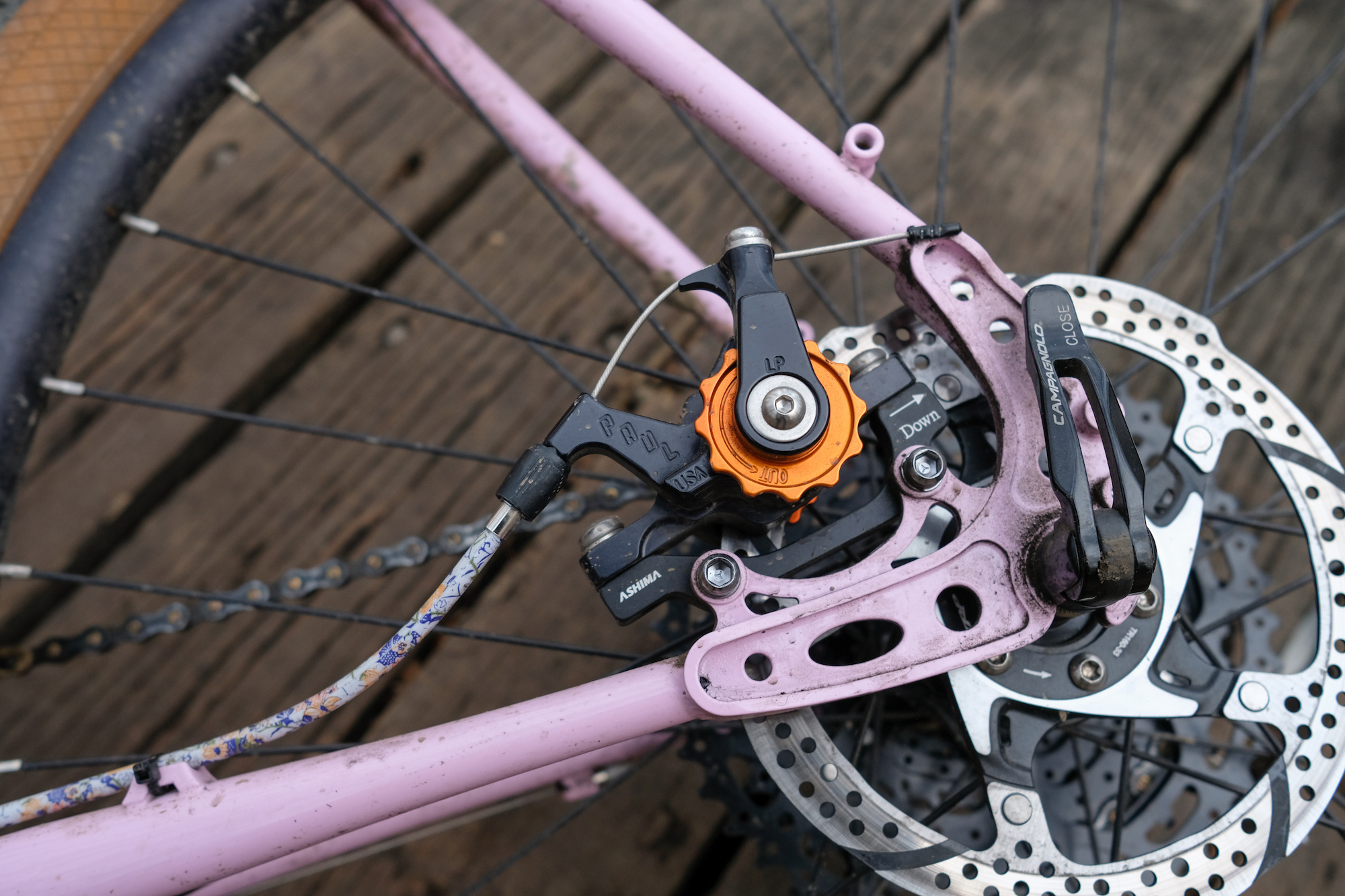 The drivetrain is where things get a little weird. I settled on a 1x setup, but most readily available groupsets just don't do it for me. Call me a retro-grouch, but nothing will ever beat a friction transmission. A friction shifter doesn't care about your bent derailer hanger, or your rusty shift cable, or whatever number of cogs you've got, or even what derailer it's activating. It will still pull that cable and move that derailer up and down those cogs. But building a wide-range, 1x, friction drivetrain proved more challenging than I expected. To begin with, there aren't many good-quality friction shifters on the market anymore, and the one I wanted (Rivendell's XO thumbie) had been out of stock for ever. So I settled for a NOS Suntour LD-2800, mostly because I read somewhere that this was the shifter Rivendell based their XO shifter on (and also old Suntour are still some of the best shifters around). I paired it with the Microshift Advent 9-speed clutch derailer, as I wanted to try something different. Although it is only specified for a 42t max cog, it has no problem managing the 46t cog on the Sunrace 10-speed cassette. The only downside is that this derailer has its own proprietary pull-ratio, which means it doesn't work with a standard-pull friction shifter. Now the Suntour LD-2800 is most likely a 6-speed shifter, so in order to make that derailer work with that shifter, I had to cut the tab that stopped the shift lever's travel. But even then, I could only reach the 9th cog. I finally added the Wolftooth Tanpan widget, which increases the amount of cable pulled by the shifter, to make the derailer go all the way up to the 10th cog. Yay victory!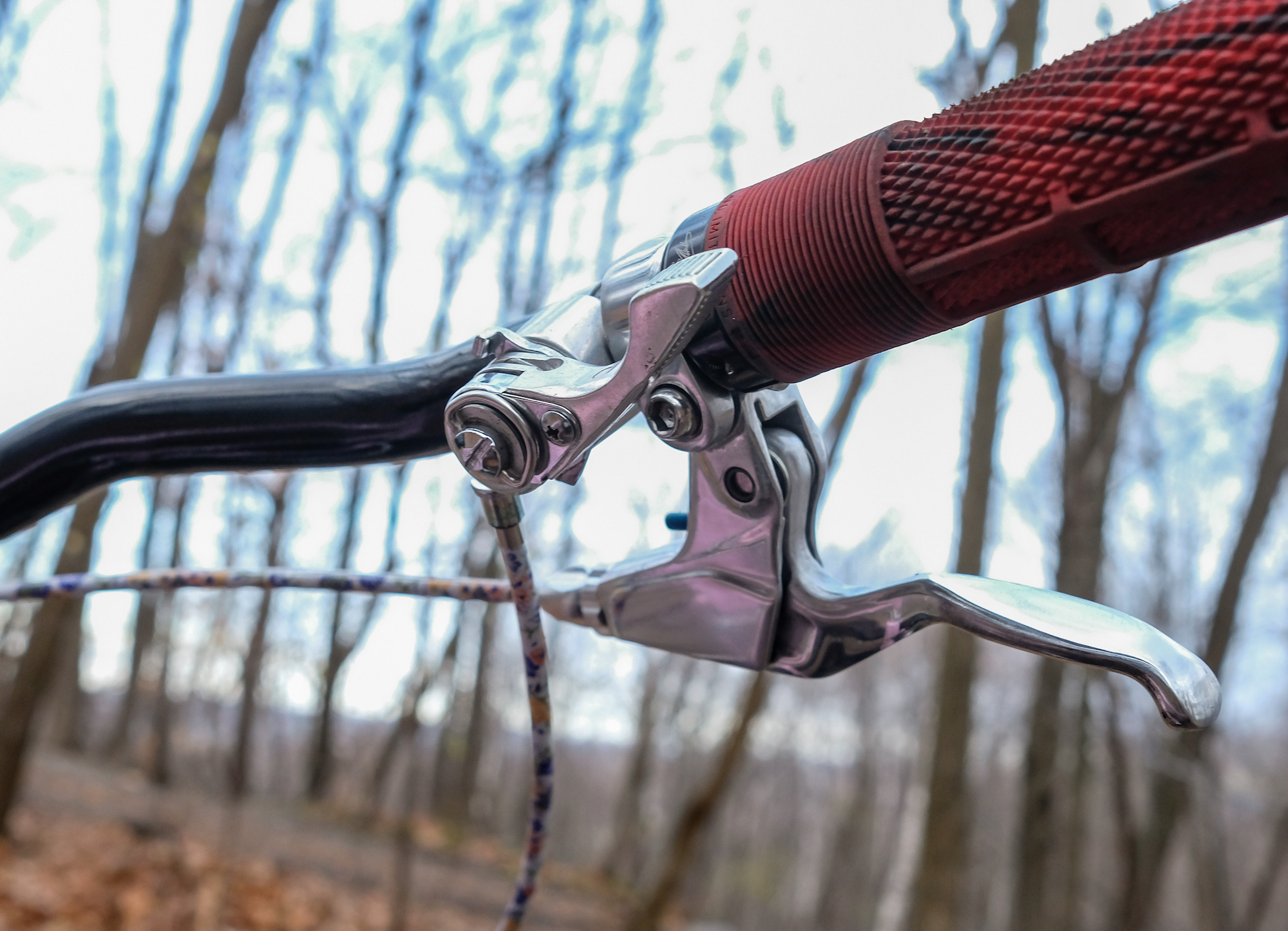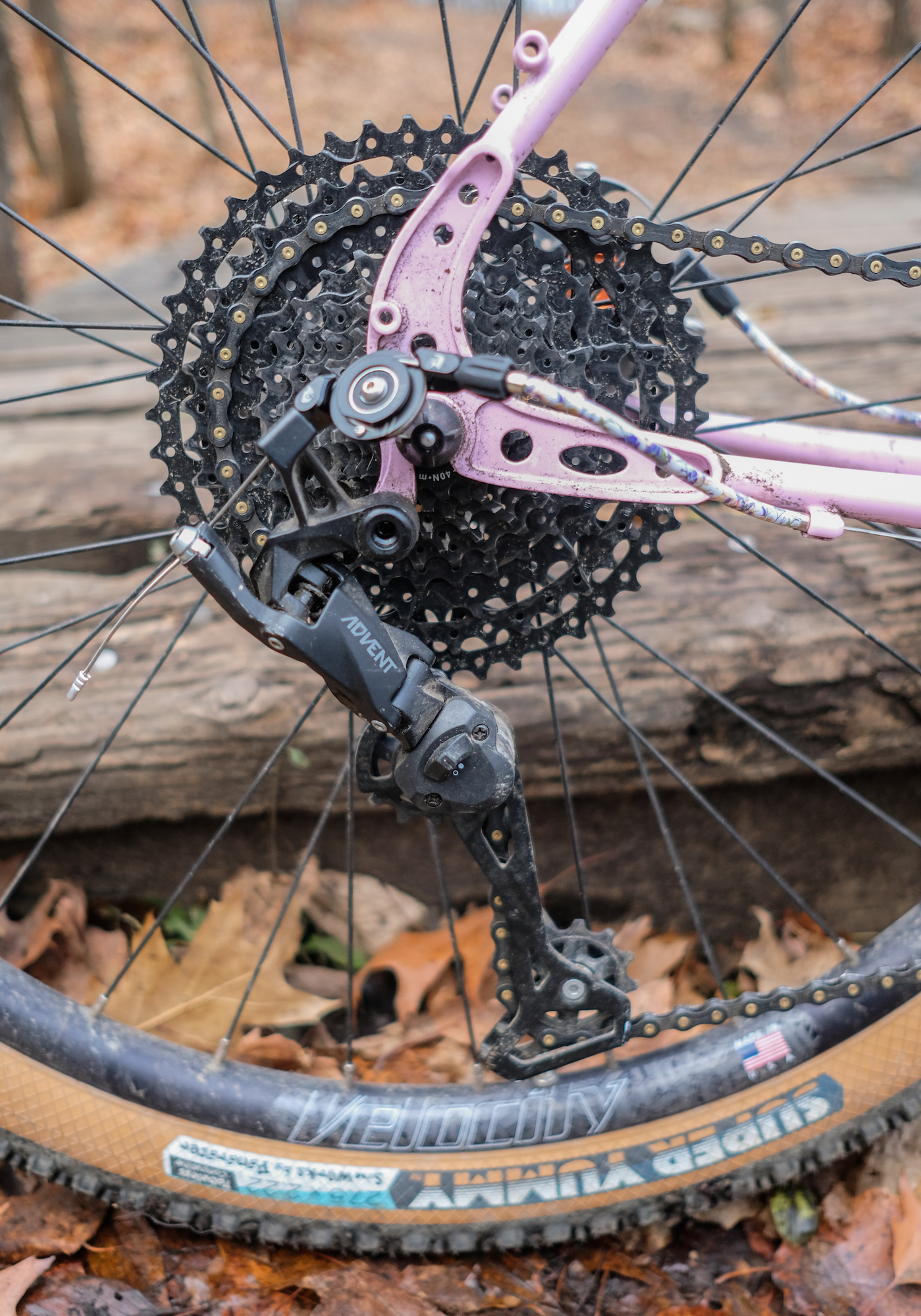 Then there was the crank situation. I majorly favor square-taper bottom brackets over external cups because of their durability (I chose the IRD Tenacity open ball-bearings). But good quality and good-looking square-taper cranks are getting scarce, or plain non-existent for 1x specific drivetrains. All in all, getting an old road square-taper crank with a common 110 BCD seemed like the most logical option. They're reliable, easily replaceable, and look great with a 36t narrow-wide chainring from Blackspire. This Sakae crank I found in an old parts bin in the shop's basement.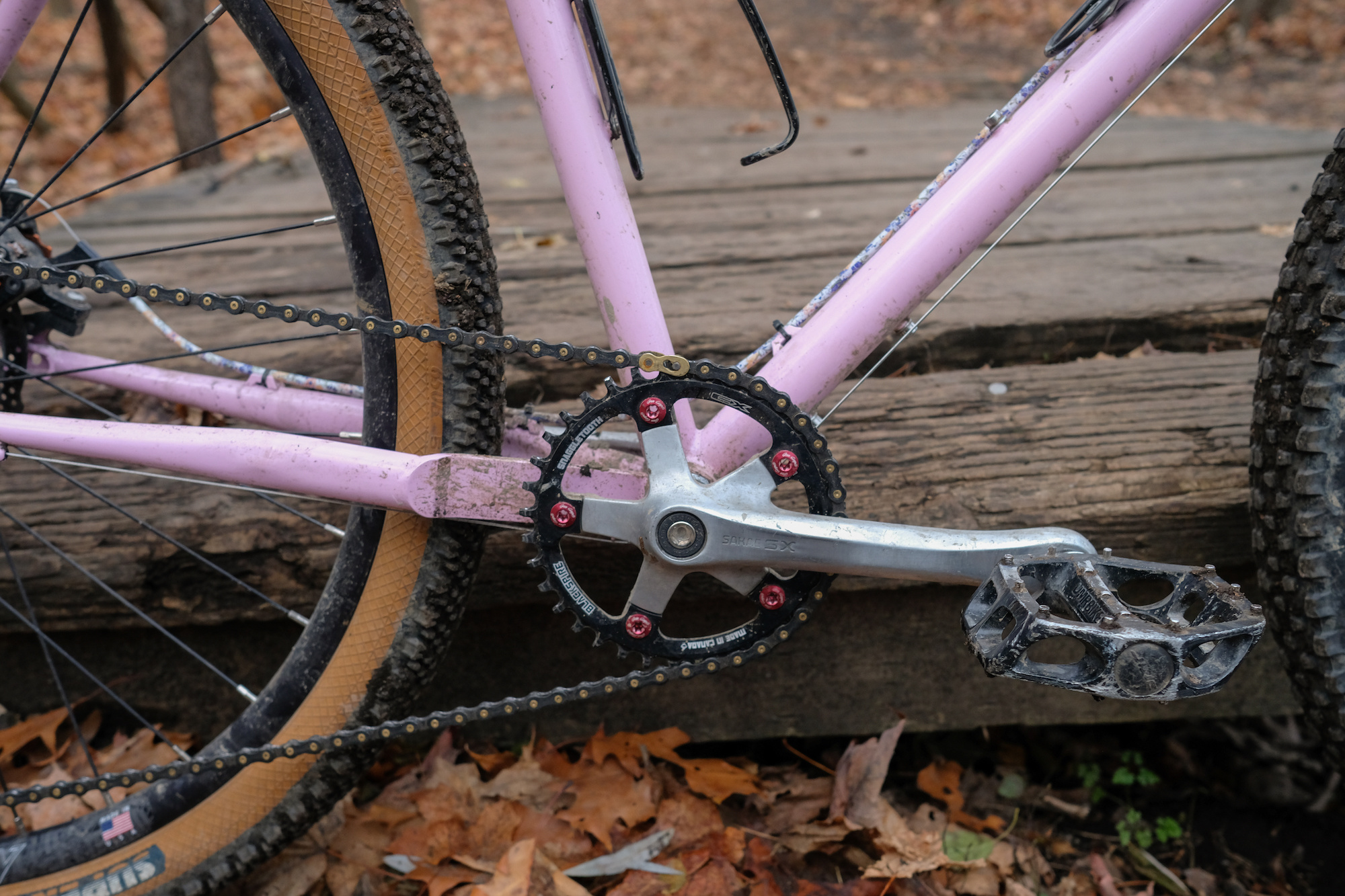 In the end, it makes for a pretty wacky, completely mis-matched drivetrain that isn't supposed to work, but it does. I just love "cheating" with drivetrains like that, it's fun and it makes me feel like I won over planned obsolescence.
The rest of the bike came along randomly: DMR pedals I have used on many of my bikes, the grips have a cool name (shoutout to Death Grips fans), the flowery housing (definitely of lesser quality) comes from a weird French website Julian stumbled upon, saddle is just a good ol' C17 (I'm too lazy to take care of a real-leather one), and Sim Works seatpost to match the cockpit. If you haven't noticed, this bike is 100% Shimano-, SRAM- and Campy-free (except for the Campy skewers I got for the lolz, if you know me you know). Although it wasn't a goal from the get go, I'm kind of proud things turned out that way. All of these companies make really good products, but sometimes I feel like it's too easy to rely on them and not look at what else is out there.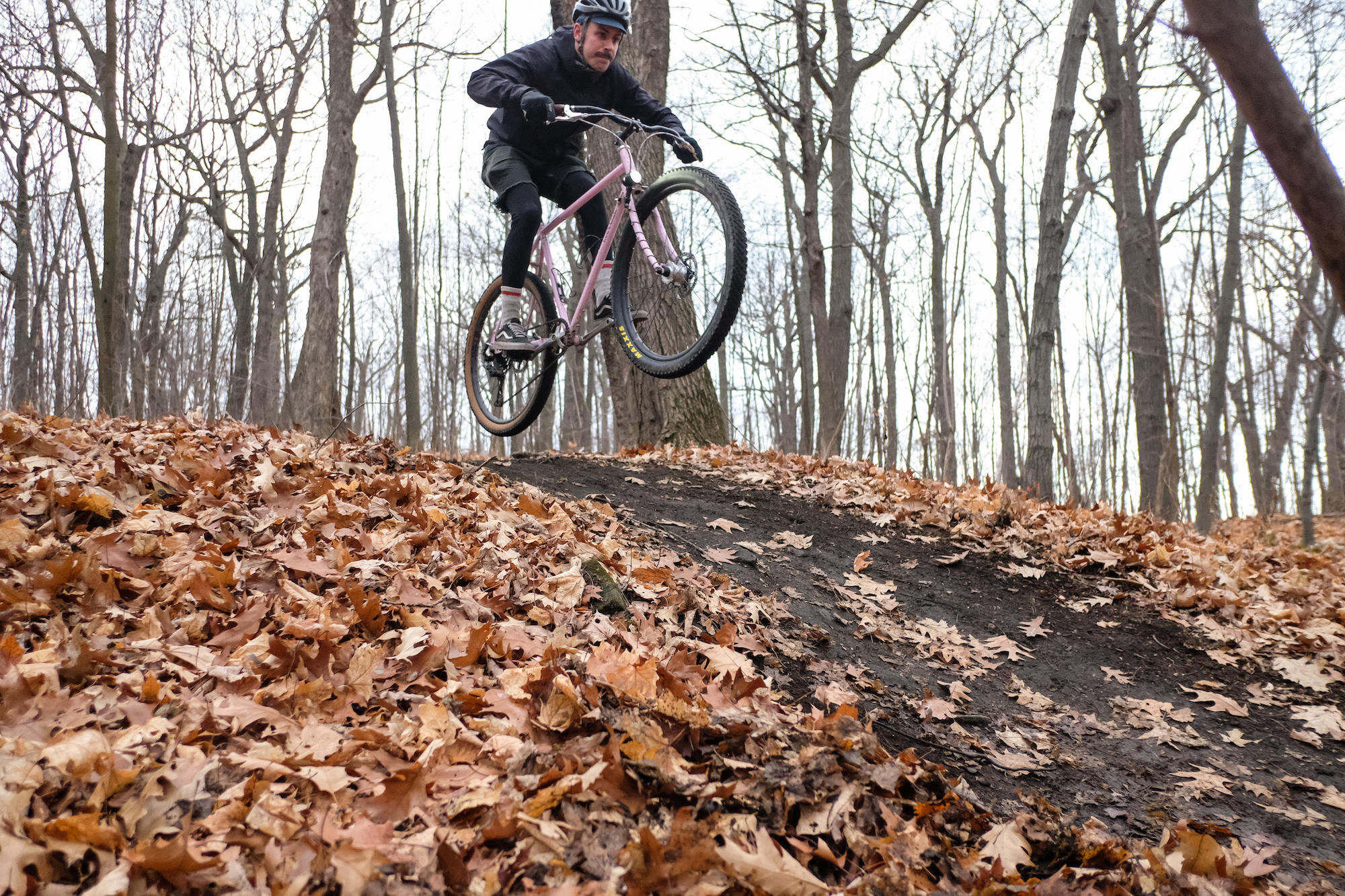 I am seriously in love with this bike. It's as good a trail bike as it is a commuter. I'm perfectly satisfied with this build, but I can definitely see it undergoing many changes in the future, if I want. Julian did an amazing job designing this frame, making it a very playful, do-it-all and fits-with-everything bike that can take you wherever you want. I haven't had the chance to take it on a bikepacking trip yet, but I'm planning on riding in Newfoundland next summer!
Pics by our K0DaK kId @jochhoo
Leave a comment