Free shipping on orders over $125 (oversized items excluded)
Login
Log in if you have an account
Register
By creating an account with our store, you will be able to move through the checkout process faster, store multiple addresses, view and track your orders in your account, and more.
Create an account
Two flavours of custom Hog's Back
14 Apr 2022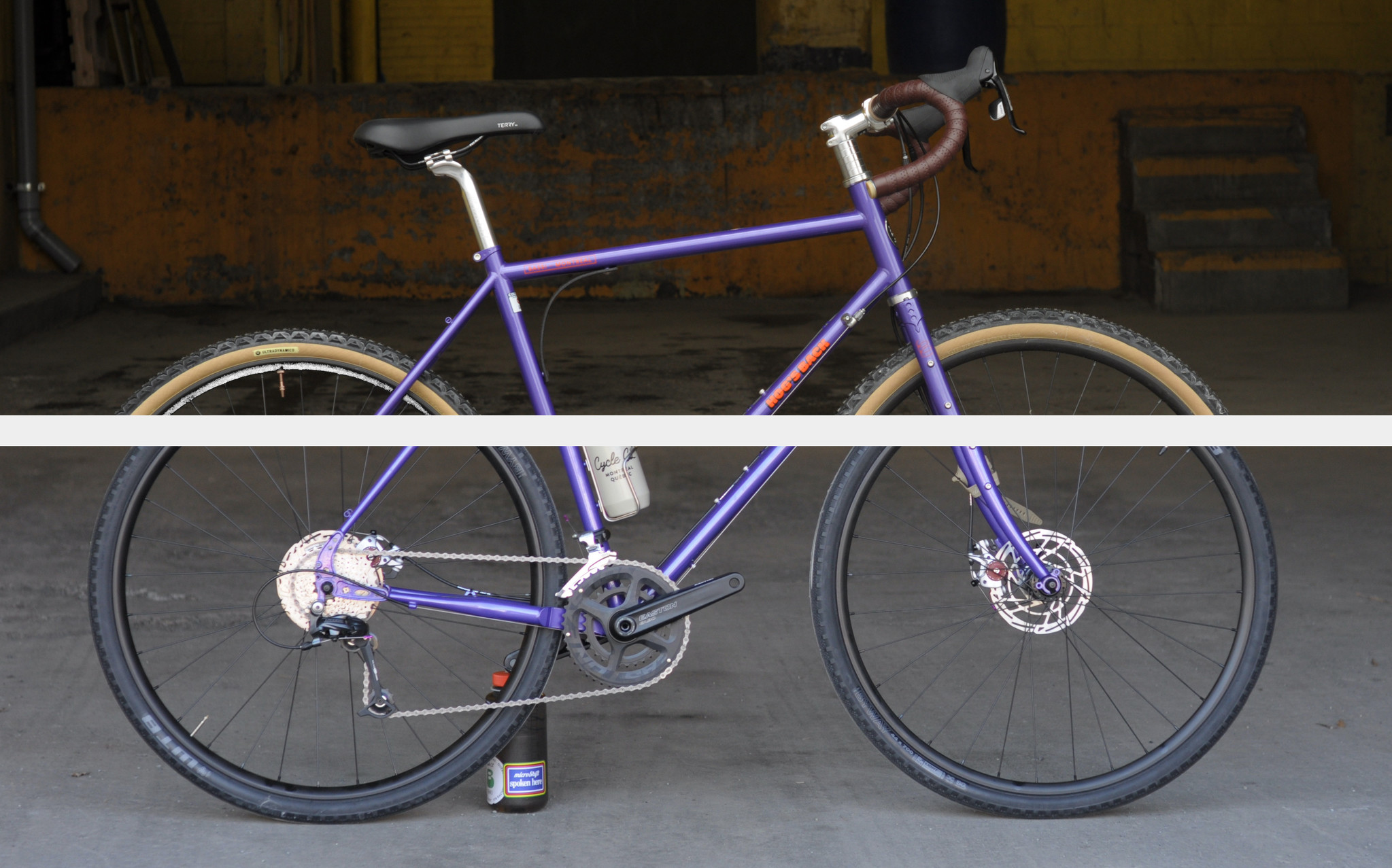 Tom and Joel's Hog's Backs
Open images in a new tab to embiggen
These two customs we built this Spring are wonderful examples of what we often make for the bespoke-bike-wanters out there. They're also a sneak peek of what we'll be doing for our stock Hog's in the future!
Tom's Graveler
First off, Tom's ride: he's obviously a tasteful cyclist, since he had us make a silver polished custom, giving his HB a classic look, despite being fully modern, with tubeless wheels and the dirt-drop Cowchipper bars from Salsa. Mind you, he couldn't resist specifying the MKS Bear Trap pedals, a neo-retro throwback to 80s mountain bikes, from the same company that made the originals.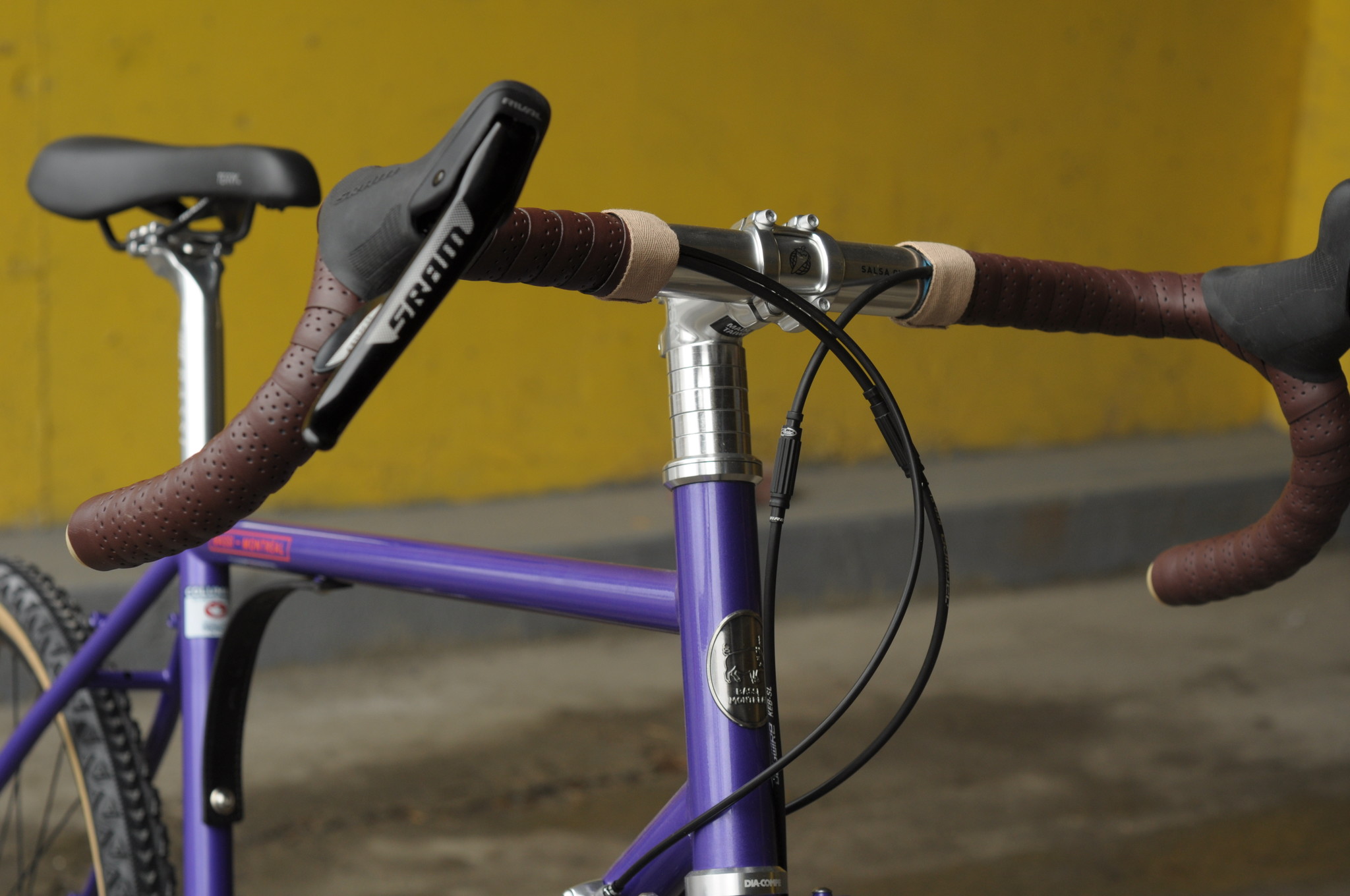 Classic silver looks, totally modern machine: BB7 disc brakes, SRAM Apex transmission.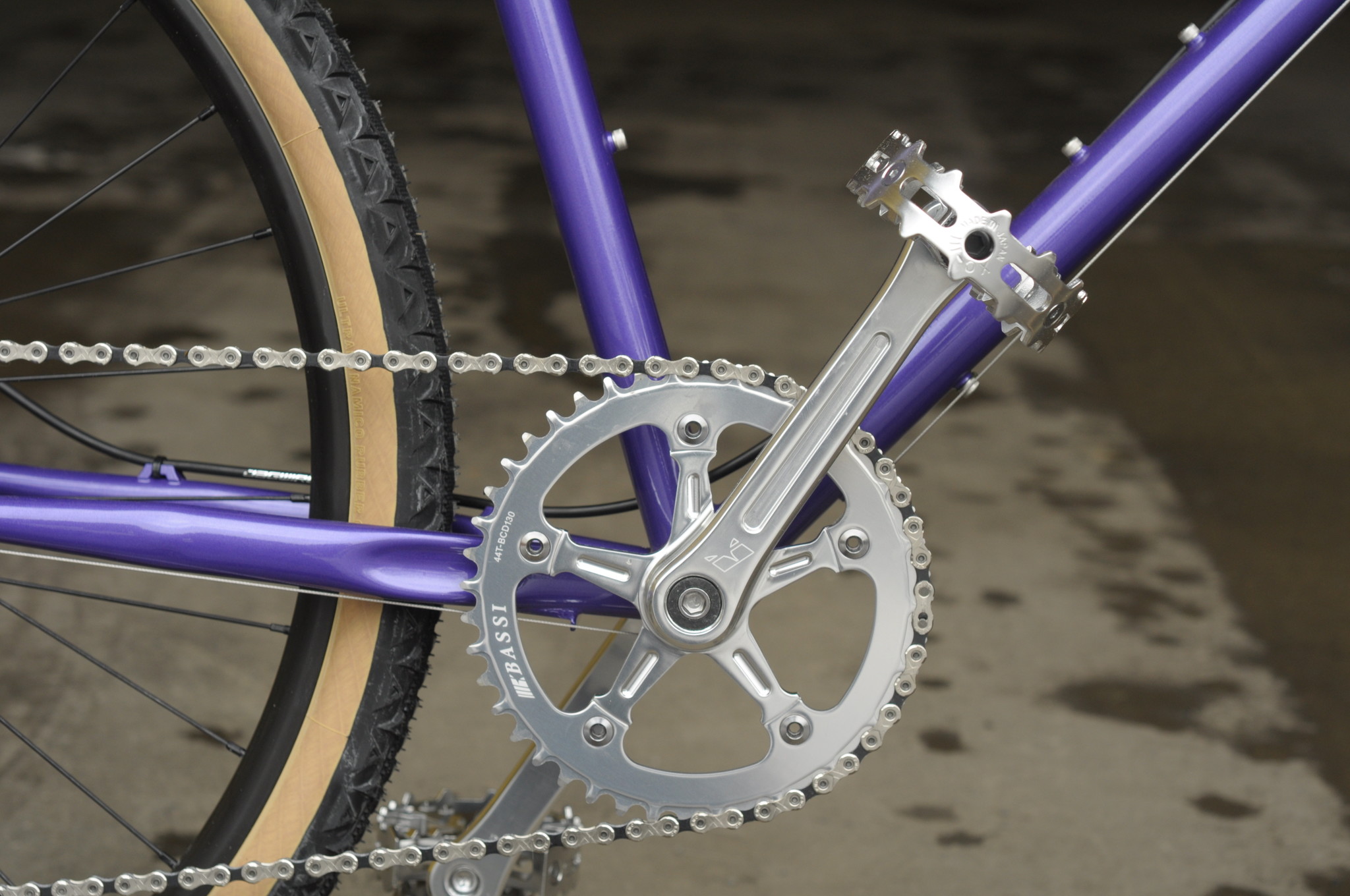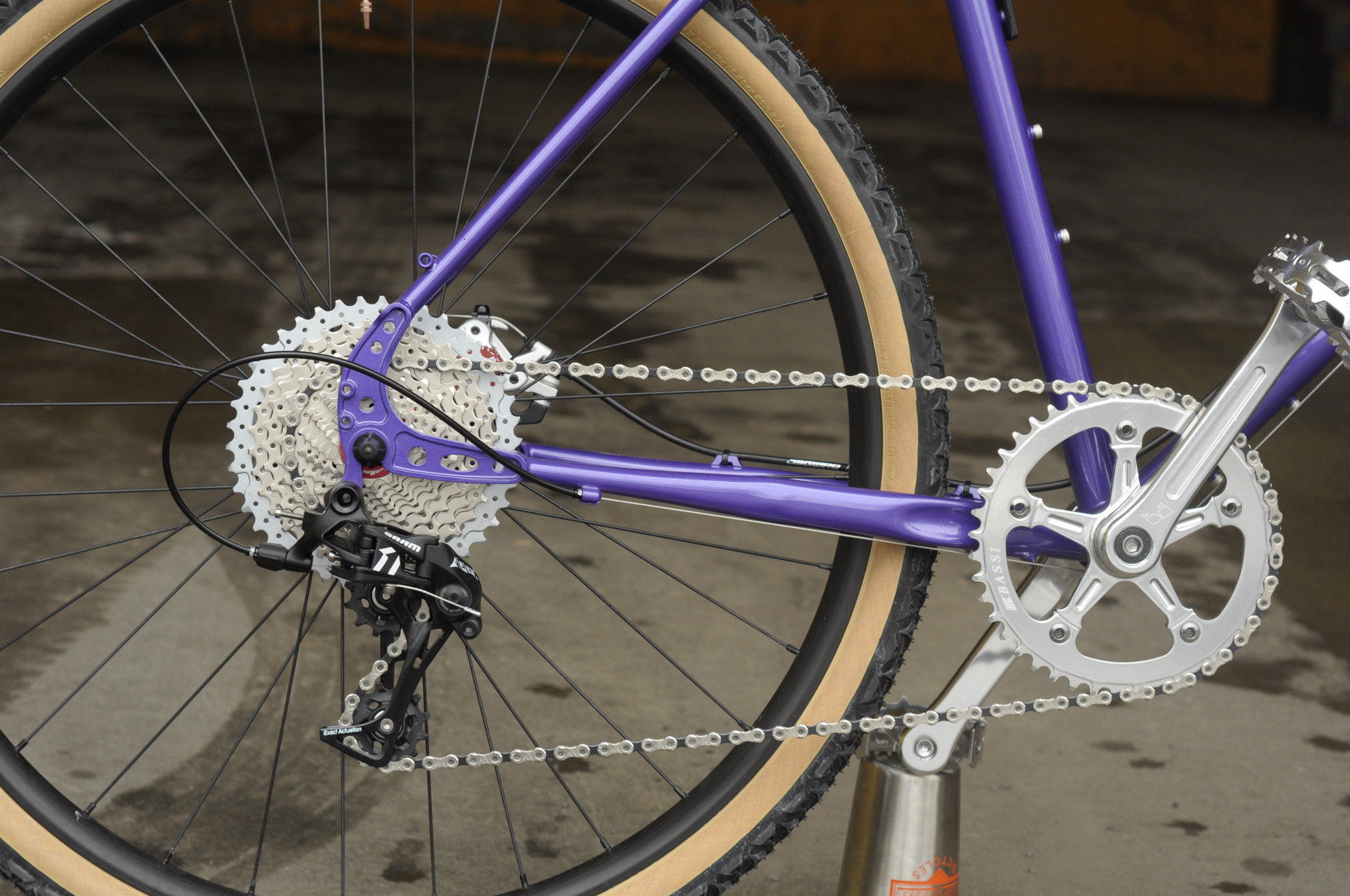 The Bassi Classic Narrow-wide crank may look old-school, but it works perfectly with 1x11 bikepacking transmissions.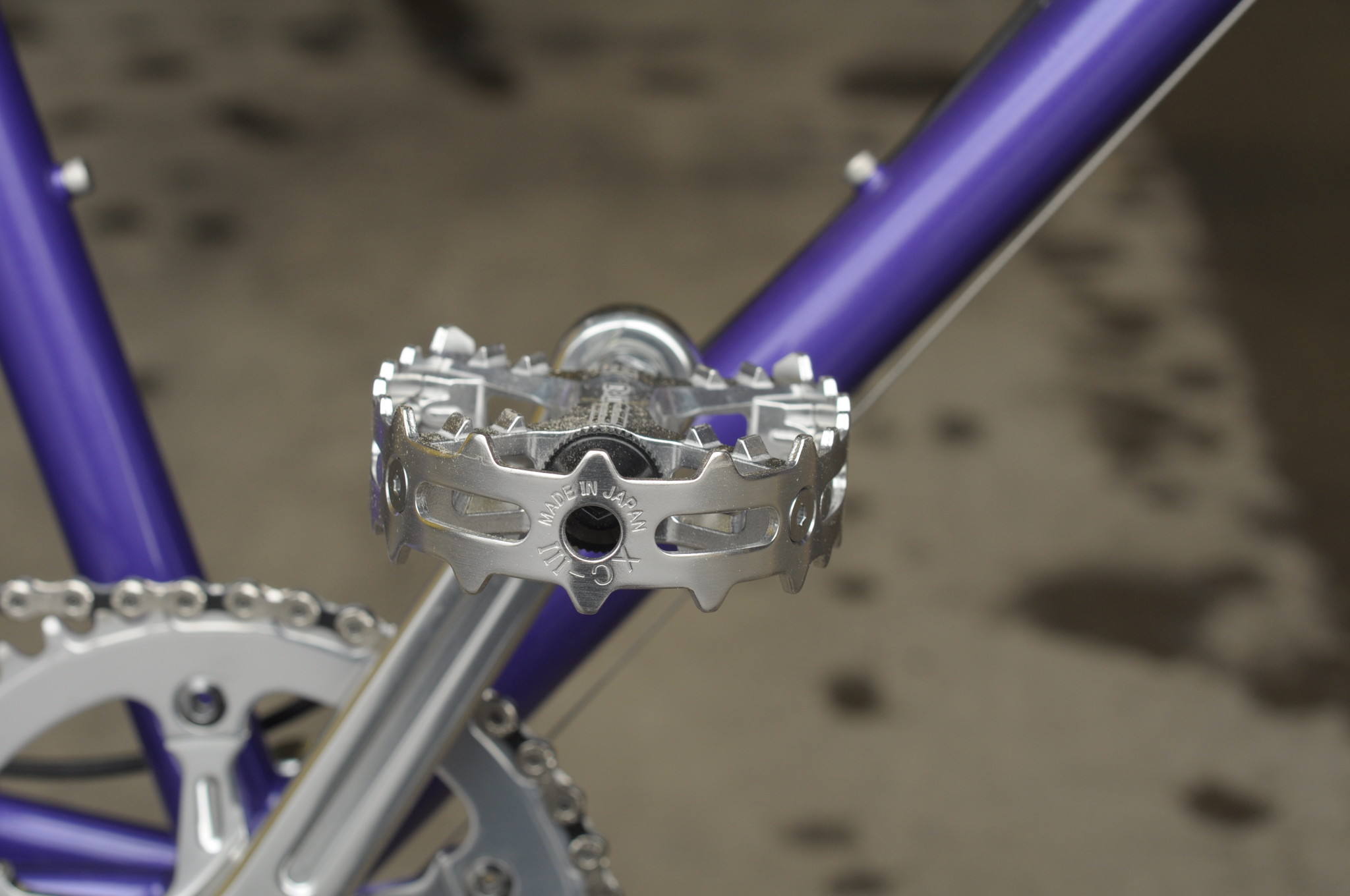 The Bear Trap XC-III was brought back from the 80s by its original manufacturer, MKS, at the request of Japan's famous Blue Lug bike shop.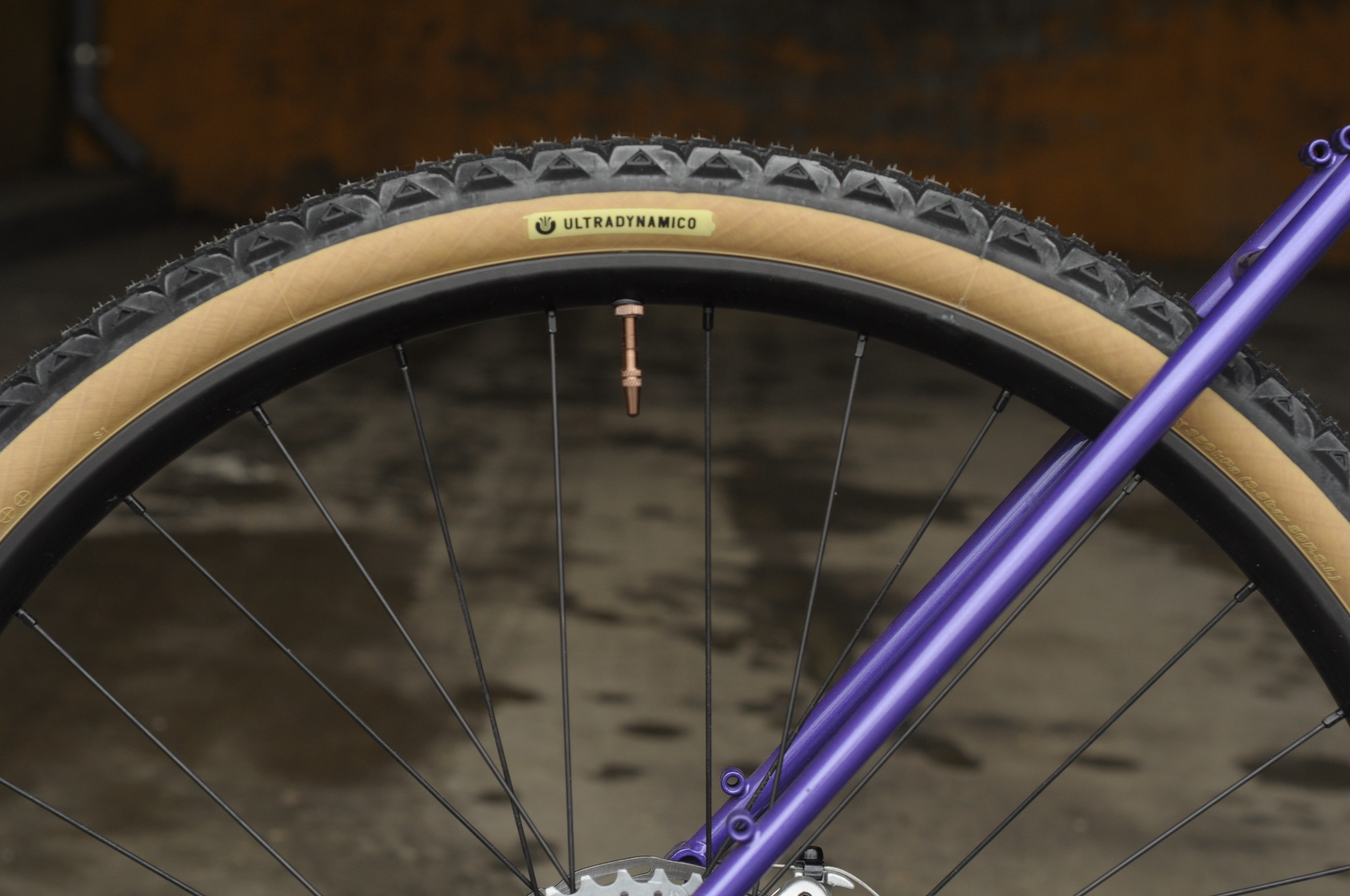 These Ultradynamico tires, also made in Japan, were set up tubeless at Tom's request, but of course work just as well with innertubes. The handsome bronze-finish valves are made in the US for Discord Components.
Joel's Tourer
This second bike is Joel's, and he intends to ride it in his native Rockies, doing sections of the Great Divide trail, a network of off-road routes running in the wilderness from Canada to the Mexican border.
To be happy riding everything these routes will throw at him, Joel wanted wide-range gears, which he'll get with this 46/30 double crank and 11-36 cassette, for a super-low gear of 22.5-inches and a respectable top gear of 113-inches. The 9-speed Shimano Deore derailer (my favourite in the whole wide world) will happily wrap all those gears, and will be shifted with the reliable and straightforward Microshift bar-ends, as is normal for long-distance touring bikes.
This build is very close to how we intend to build the Hog's Back (road/touring version) in 2023, which will replace the Sporter with its gravel Apex transmission. We'll also use more silver, like on Tom's bike. Stay tuned for that, since nothing is set in stone yet and there's still most of 2022 to get through!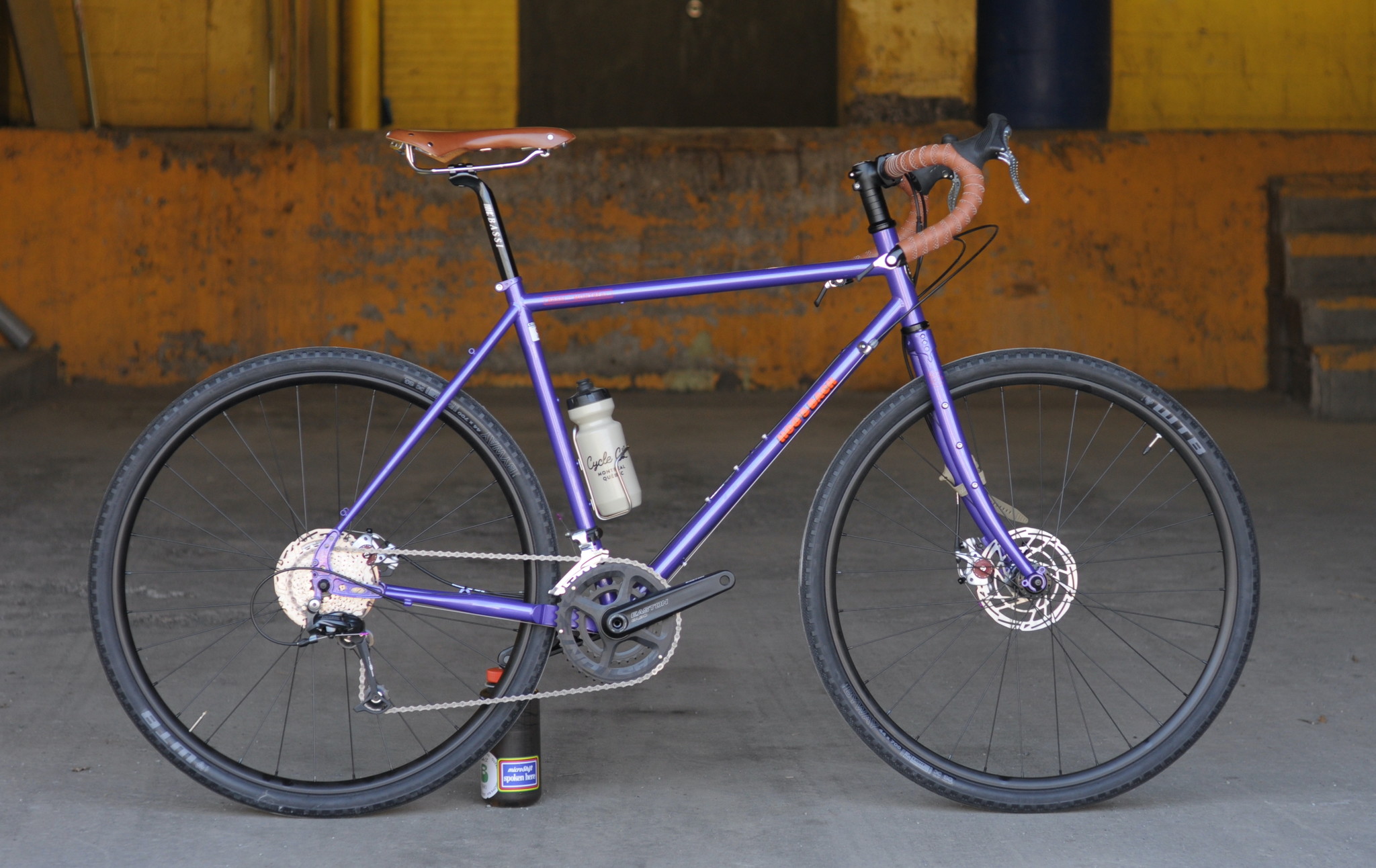 A Hog's Back for all roads and off-road: 700 x 44C tires will roll over even nasty stony dirt tracks, while staying road-comfy, and the long wheel base on the Hog's Back will enhance the comfort and handling. I also suspect Joel won't stick with just one bottle cage!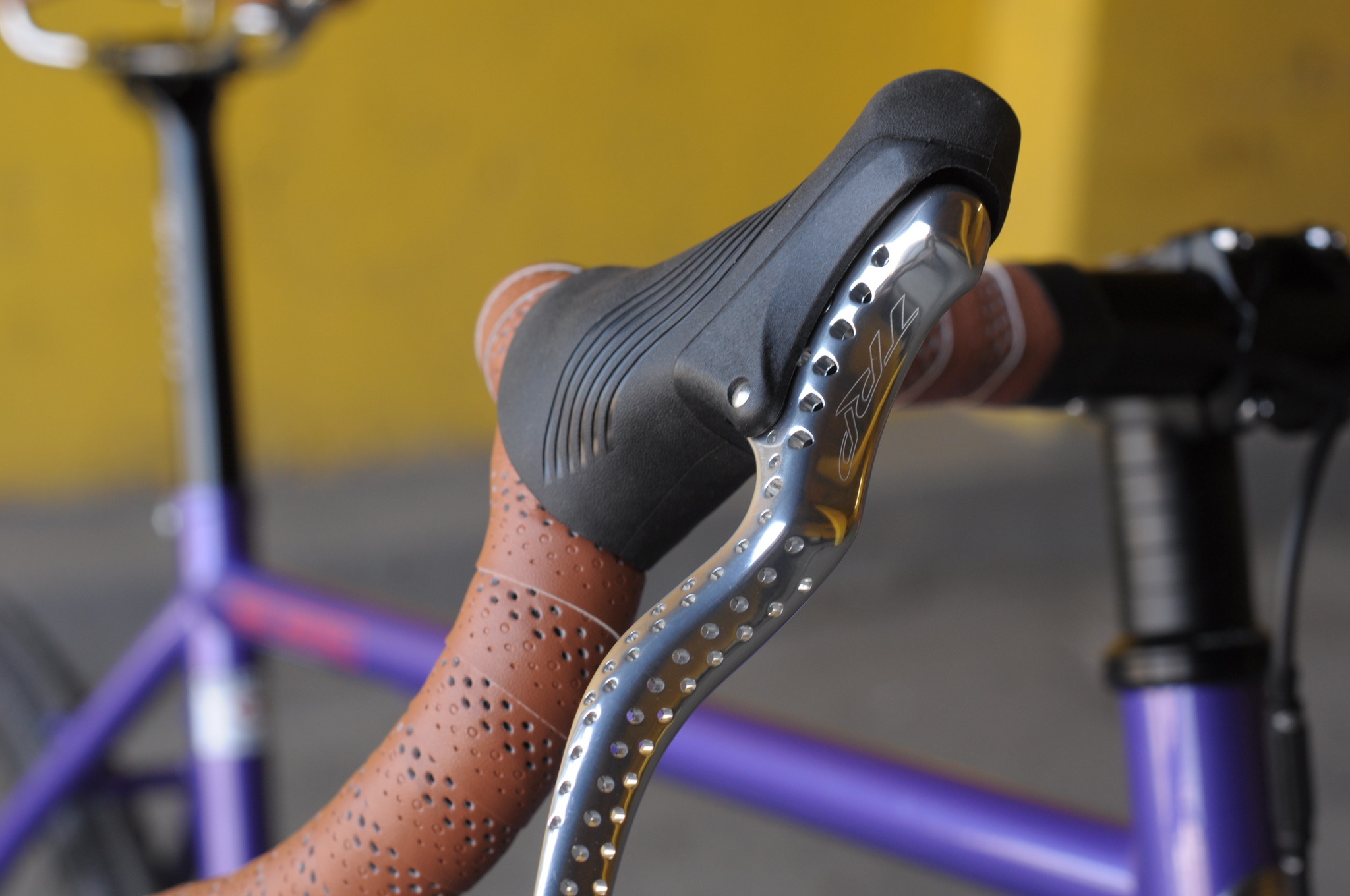 The TRP RRL levers are, in the words of Julian sitting next to me, "absolutely sick", and I stand by those words, too! You can install them properly on both compact bars like the Cowchipper, and curvy traditional ones like a Nitto Noodle, just by swapping out a little spacer block to get the right angle. The strange curves in the lever's arm give you good leverage both on the hoods and in the drops. The drilled arm is strictly æsthetic, calling back to the "drillium" parts racers enjoyed in the 70s.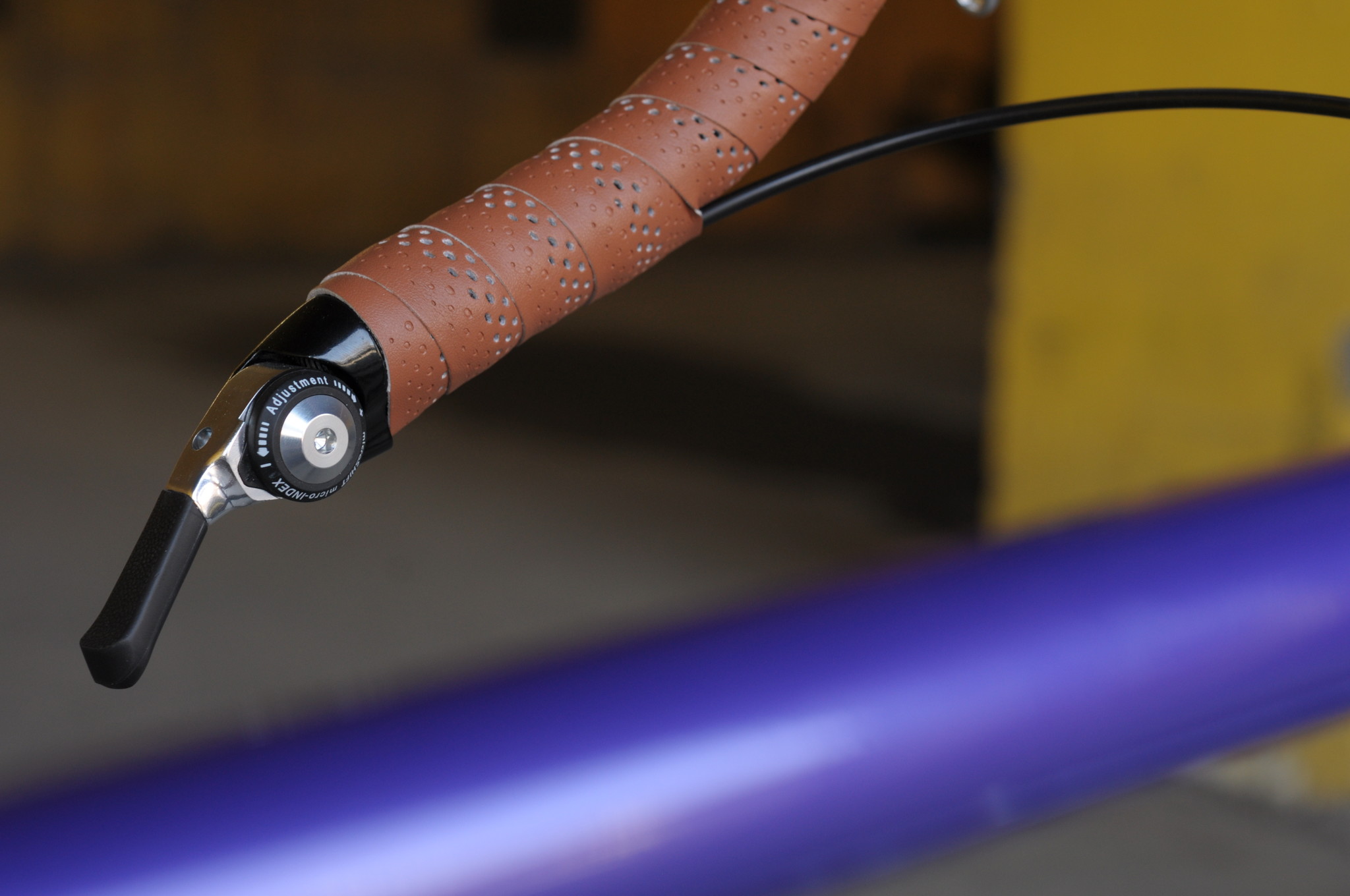 The shifters at the bar-ends are convenient to access while riding, and these Microshifts are thoroughly reliable. The left lever is friction-type (really micro-ratchet) so you can easily adjust the position of the front derailer, doing away with rubbing from temperamental indexed derailers. The right-hand shifter in indexed to match the rear cogs, but if Joel feels like it (or needs to on the road) he can also switch it to its friction mode.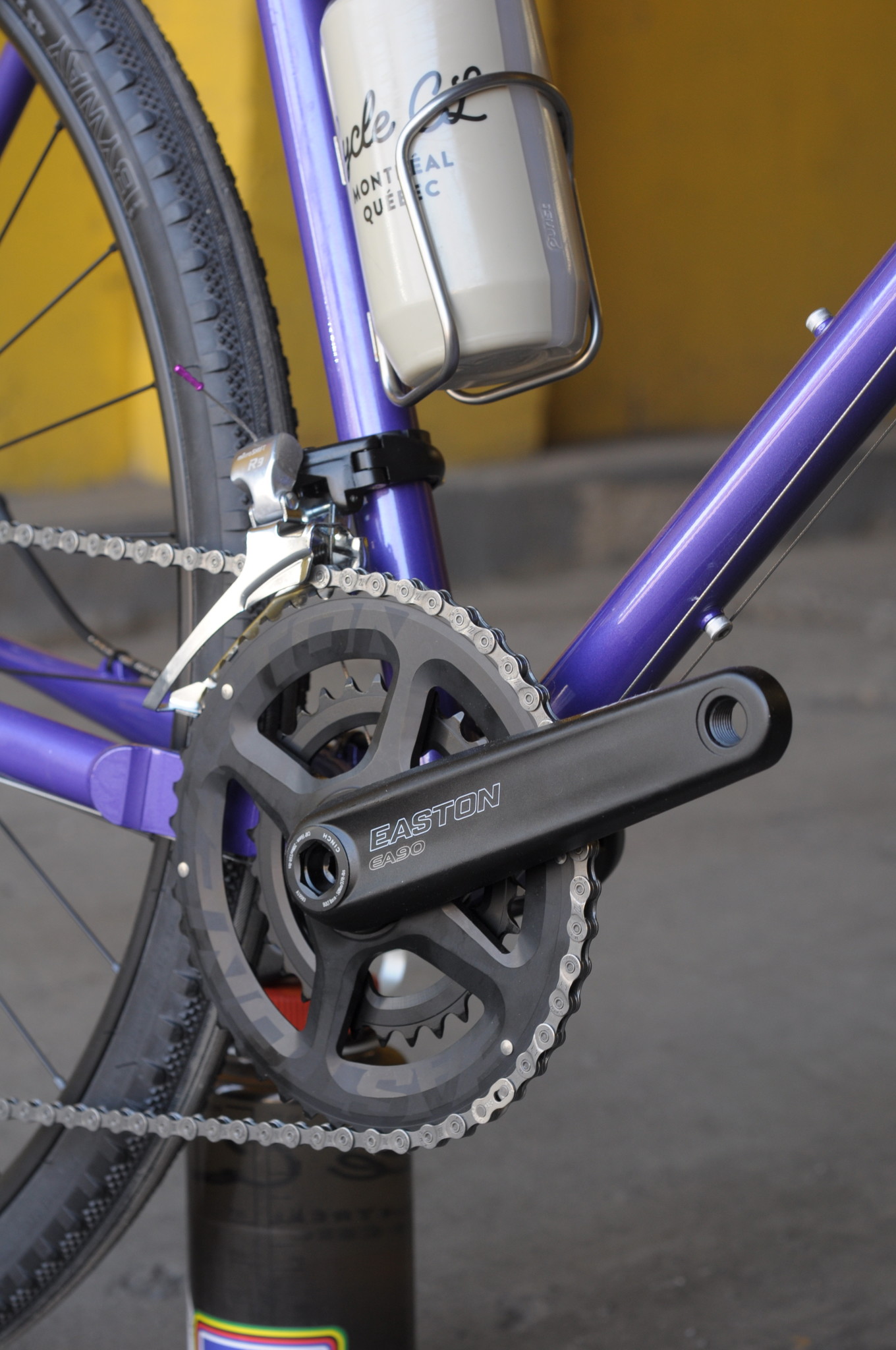 The Easton EA90 cranks are our favourites for those who want a versatile, narrow-width (Q-factor), lightweight crank. It'll take basically any 30mm bottom bracket and the rings are easy to swap for any Cinch-type replacements.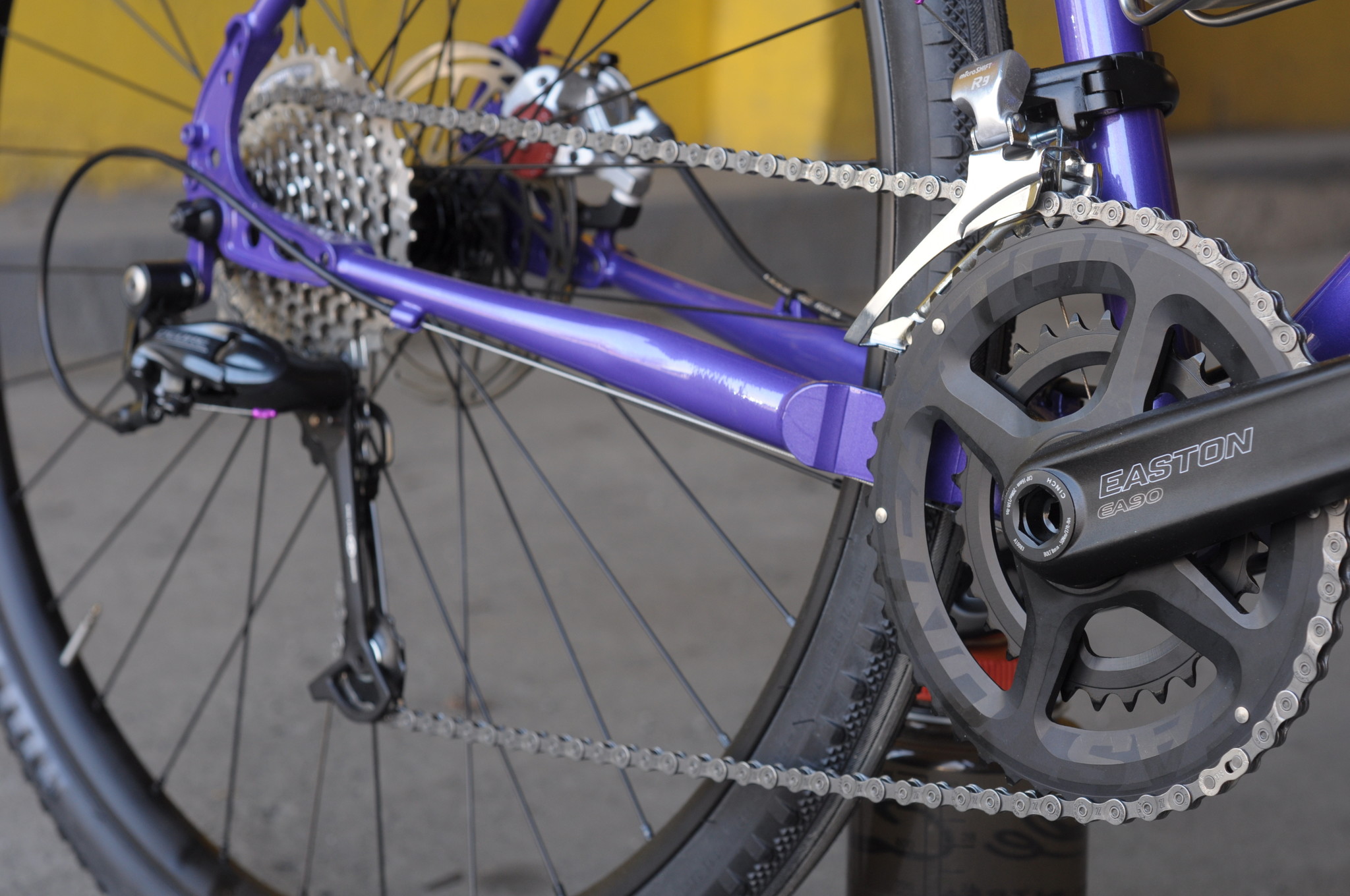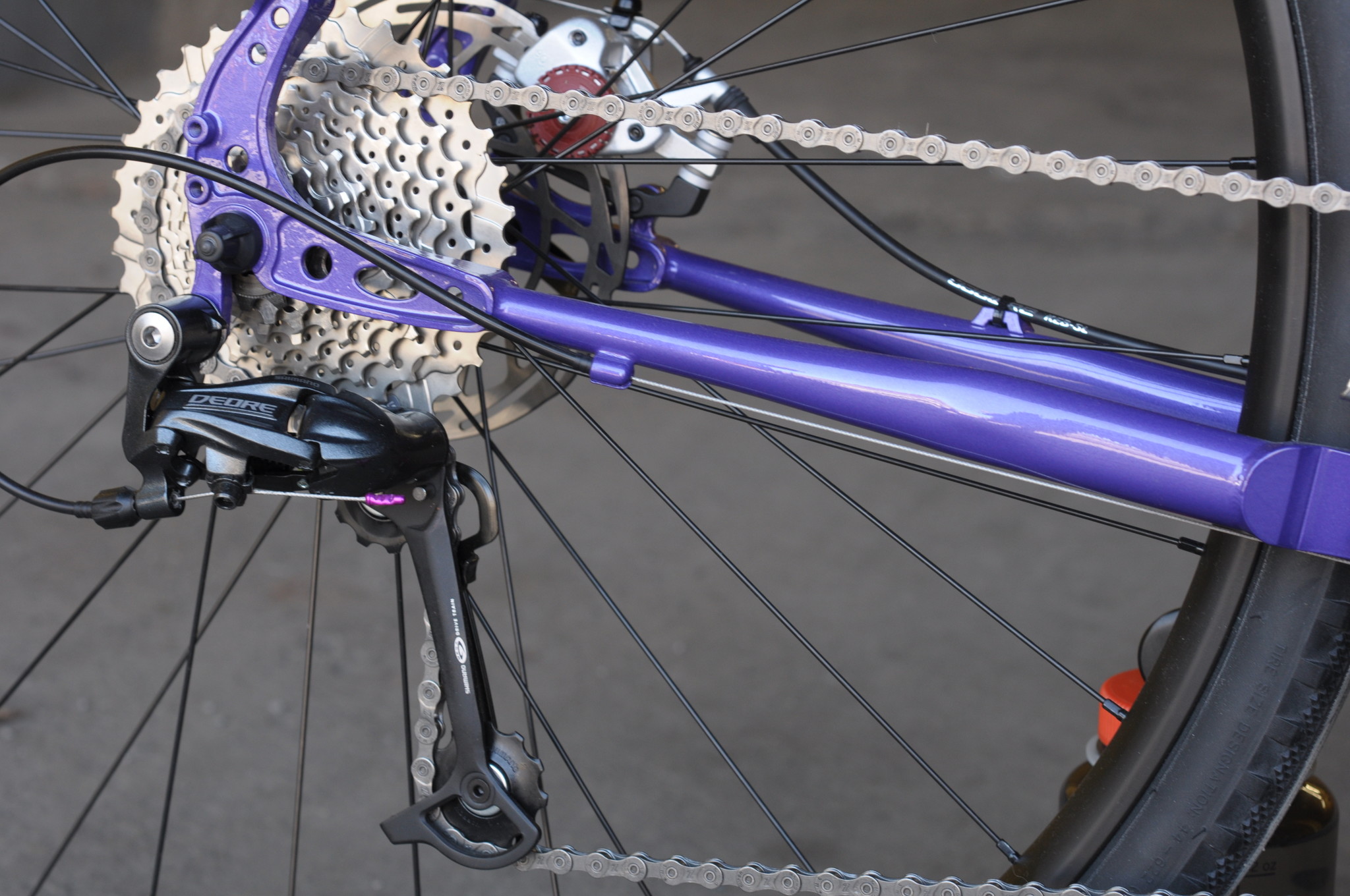 The Shimano Deore M591 derailer is just incredible, and this wide gearing isn't even close to pushing its capacity. All the adventures this bike will go on won't even cause it to blush.
Photos by YT
Leave a comment