Free shipping on orders over $125 (oversized items excluded)
Login
Log in if you have an account
Register
By creating an account with our store, you will be able to move through the checkout process faster, store multiple addresses, view and track your orders in your account, and more.
Create an account
Newsletter May 2021
07 May 2021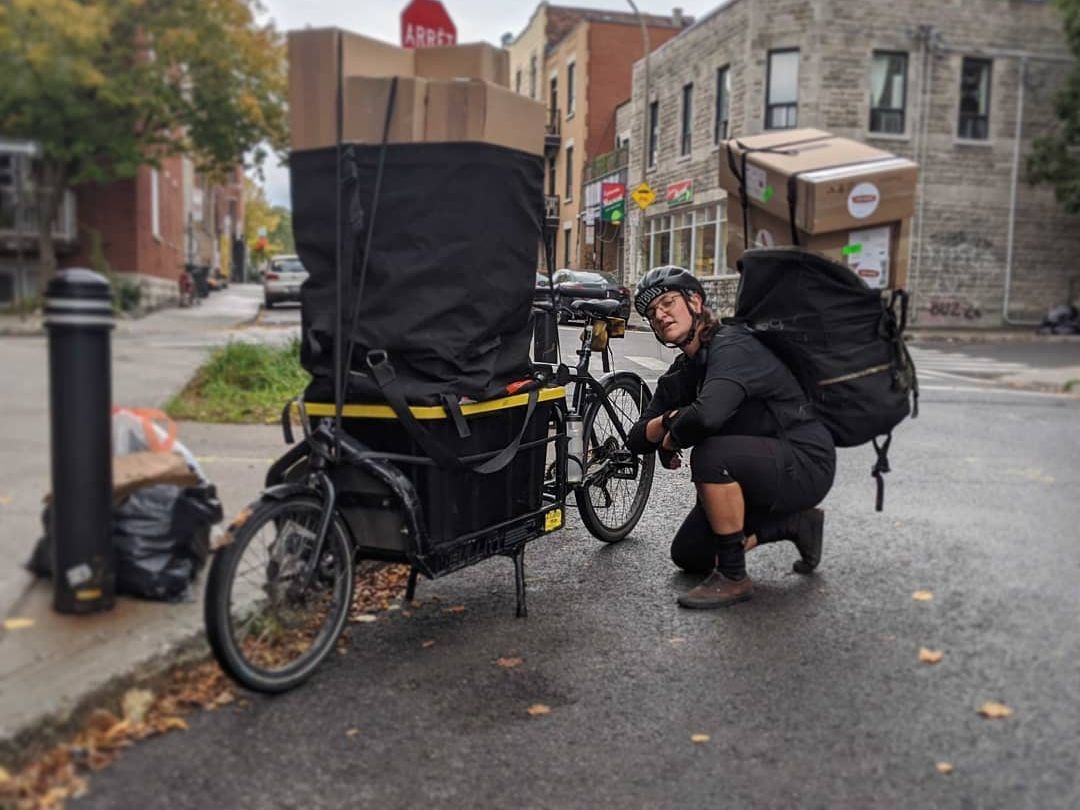 *|MC_PREVIEW_TEXT|*
Local bicycle delivery news, and more
Those reading this in Montréal might know Chasseurs Courriers pretty well. They started out delivering burritos in Saint-Henri and are now probably the best way to get your packages moved around town fast, not to mention most of the full-time riders own Hog's Backs, so you know they have great taste.

Well, Chasseurs reached out to us about a service they thought would be useful for you. Once a week they'll pick up all our local deliveries and bring them straight to your door for super cheap, and the distribution area covers most of Montréal's population. You're probably in the zone, check it out on the handy map I made. So, we'll be offering flat-rate delivery in the most cool and carbon-neutral way possible, while working with some good friends of ours and maybe yours, too.

TL;DR: Orders delivered by bike, six bucks, every Wednesday, most of the city.
A really cool new product, and some restocks
This is one we've been working on getting for absolute years, and it's finally here: Spray.Bike. It's rattle-can paint made to stick like hell to bikes, with a nozzle good for spraying a bike instead of a body-panel. The colours are super-cool and they make a bunch of weird finishes, as well as matches to classic bike paints. It's pretty easy to prep the frame, too. Most of the time you just need to sand smooth the paint that's already there, not strip the thing to bare metal. We're trying it out on a few of our personal bikes, we'll put up a blog about how it went, but in the mean-time, you can pick up a can or two and try it for yourself.

Not related to paint, this is what we're restocking all the time, as fast as possible:
Sim Works, we're watching their stock like hawks.
Velo Orange, we're keeping everything available we can.
Rene Herse, they have a lot of tires but we're doing our darnedest to bring 'em in.
Recently back in stock:
Our intentions for the rest of the year
Honestly, we're just trying hard as hell to keep things in stock so we can fix bikes and kit you out for touring. That said, we've got our next run of frames coming this summer (still time to preorder BTW) and we're on track to be able to build bikes as soon as they come in. We'll be getting in touch with you if you preordered to see how you want it built.

We'll also be getting more frames of current models over next winter, so we'll be reaching out to a dealer near you to see if they're into building up nice, fun, local steel frames. Write in if you know a shop you think would be a good fit!

We're all going to be vaccinated soon, too, so we're hoping we can announce some group rides, but we'll see how things go. We really hope we can see your beautiful, keen and intelligent faces this summer!
Leave a comment