Free shipping on orders over $125 (oversized items excluded)
Login
Log in if you have an account
Register
By creating an account with our store, you will be able to move through the checkout process faster, store multiple addresses, view and track your orders in your account, and more.
Create an account
How to cycle through the winter
11 Nov 2020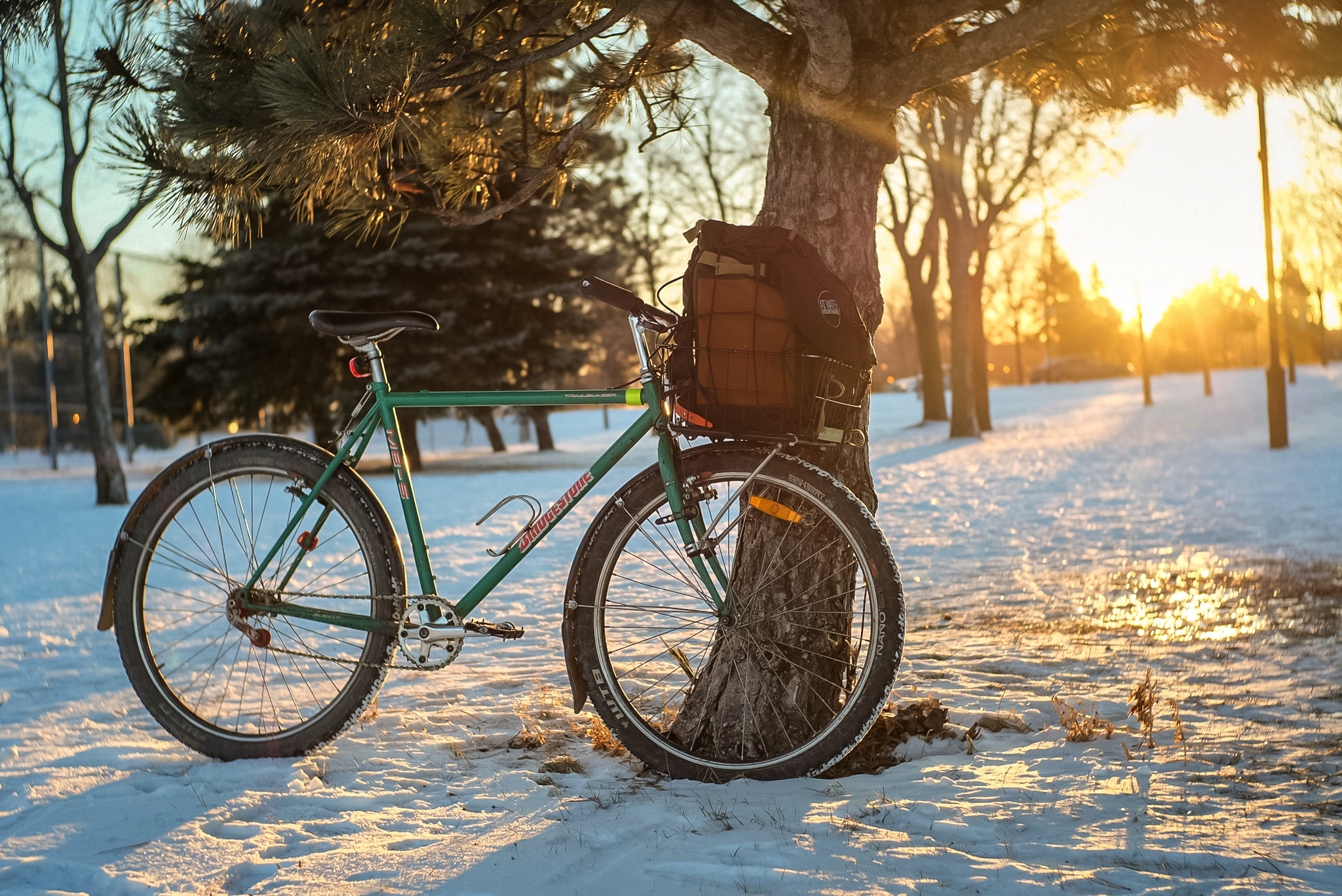 Winters get a bad reputation in Montreal. It's a pain to drive and park (I'm told) and walking sucks with ice and slush a constant hazard. However, cycling remains surprisingly easy, and is a real morale booster! It's a little bit more physically demanding than the rest of the year, but that little bit of physical activity is good for you. Winter cycling also makes more of the city easily accessible when it wouldn't be otherwise.
There are three main things to get a handle on to make winter cycling easier:
Adapting your bike to the elements
Dressing properly
Choosing a route
Adapting your bike
First off, if you don't have full fenders yet, get some! Salty slush flying everywhere is bad for the bike and bad for your clothes, and your tires throwing snow straight down your boots is a real bummer, too.
Then you need to think about winter tires. I've ridden with very wide and soft tires some years, and studded tires other years. You can get away with wide-and-soft, it's fun on fresh snow, but it can get sketchy in the turns and on ice, which is not the case with studded tires. Get studded tires, I'm putting mine on this year.
Then, there's the parts on the bike. You'll need to grease anything that might be in contact with road crud, or it'll jam up: derailer pivots, bolts, even your headset and bottom bracket bearings. You probably shouldn't grease cables, but be prepared for them to jam up sometimes if you leave your bike outside. Condensation makes fools of us all. It's not a huge deal to change the cables at the end of the season, or even mid-season if you ride lots. 
You already have lights, yeah? Get in touch if you want a dynamo-powered system, but modern lithium-cell lights are great, you'll just need to recharge them more often than in summer (more hours of darkness, plus the cold sucks the life out of the batteries).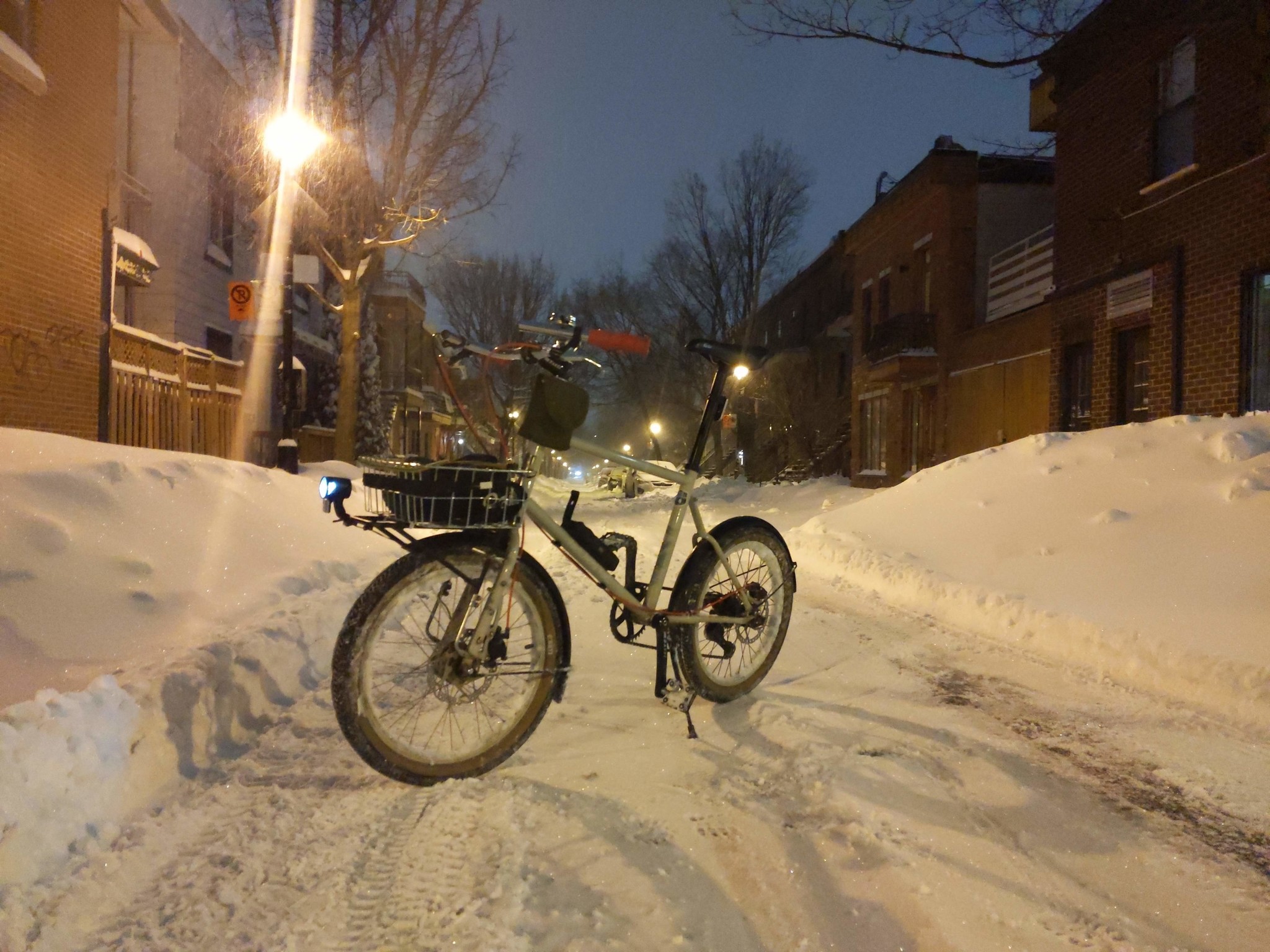 Dressing properly
Or, adapting your body. A fun thing about cycling is that you're exerting yourself more than if you were walking to your destination, so you'll be warmer! You don't need to dress as warmly as you might be used to. It helps to think not of how cold you'll be in the first five minutes of your ride, when you're still getting warmed up, but for the rest of it, when you're generating lots of heat. Layers help a lot, since you can adjust a little bit when you really get going. My big down jacket only comes out around -15°C (not counting wind chill), which is only a few days in Montreal most years. The rest of the time it's wool, hoodie and warm jacket. Long johns are extra-deluxe, and the very best are Stanfield's, made of wool in Nova-Scotia. We don't sell them but they're easy to get.
On the other hand, your feet, face and hands are pretty exposed to the wind. A scarf or balaclava, big mittens (no fingers!) or pogies (Bar-Mitts), and good insulated winter boots or snowmobile boots (with Darn Tough invincible merino socks) are fabulous. You can save the clippy shoes for the spring riding season.
And if it's below -20°C and there's a bad wind chill, feel free to skip the ride! Work from home, bundle up and walk, or take the metro. I'll be the first to admit it's pretty miserable to risk frostbite. It really sucks the fun out of the ride.
Choosing your route
This might be where you have to get creative. Unless you're lucky, your usual summer route might not even be possible, let alone safe. 
That said, more and more of the city's bike paths are permanently cleared in the winter, often being ploughed and salted before the main street they share! I know that's the case for the Rachel St. bike path right in front of the bike shop. The off-street paths are unfortunately out, but smaller residential streets can be pretty great if the snow is fresh or they've been cleared. Watch out for compacted snow and black ice, though, and give car doors a wide berth.
This year will be the first winter for the new Réseau Express Vélo (REV), with Bellechasse as a new east-west axis and Saint-Denis looking fabulous for north-south through almost the whole city. The city has committed to keeping them cleared all winter, but in my experience things are a bit slow when there's a real big snow storm. There are a few bike paths here and there that might be useful to you, explore your neighbourhood!
Readers in Pointe-Saint-Charles and Verdun, I'm sorry. You're on your own, I've never found a good winter route.
Main photo by the iceman, Jonathan Chhun
Leave a comment